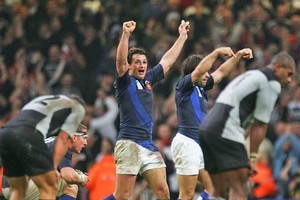 The All Blacks have finally faced the demons of their 2007 World Cup defeat to France.
As part of their preparations for the current tournament, the 2011 squad watched a replay of the painful 20-18 quarter-final exit in Cardiff. It was the first time many who played four years ago had seen the match.
Although the video would have made painful viewing, this All Blacks squad is embracing history rather than avoiding it. They are trying to learn from the past to work out why they've failed to win the World Cup since 1987.
Video: France shock All Blacks - 2007 Rugby World Cup
It has helped that the coaching panel and 10 players remain from the 2007 tournament. That defeat against France has been a powerful driving force for this campaign and it's hard to imagine they won't be motivated when the sides meet at Eden Park on Saturday.
"I think for the guys that were there, they'd never watched the game before,'' All Blacks hooker Keven Mealamu said of the 2007 quarter-final. "To go through it and say 'this is what happened' and how we could have approached it better [was valuable].
"For a lot of us that went through that experience we hadn't spoken about it since, so I think for us to move forward it's good to see where we went wrong.
"The way France came out that night, they were huge. There is a lot of history between the countries. We are both proud of what we are. It will certainly be a physical battle. But we will be ready this time.''
Mealamu didn't play that night, but he was there. The scars still haven't healed. It's the same for halfback Andy Ellis.
"I can remember in sitting in the stands and when there was a couple of minutes to go I thought that was that - we were probably going to lose,'' recalled Ellis. "I can remember thinking that I hoped that wasn't going to be it; that I wanted to have another crack and here we are four years on and we are playing France.''
The two sides have met twice since that game in Cardiff - the French won at Carisbrook and All Blacks at Marseille - but this match will be different. The All Blacks camp might stop short of labelling it a grudge match but in their minds it's exactly what it is.
The video merely served to remind everyone of that.
- APNZ