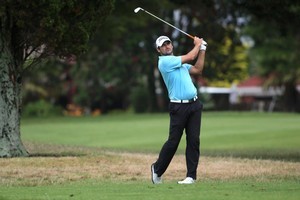 North Harbour professional Michael Hendry has confirmed why he is the tournament favourite with a five under 65 earning him a share of the lead in the opening round of the Carrus Tauranga Open.
The 2009 champion got off to a fast start getting to three under after six holes and then made a spectacular birdie down the 18th from behind the advertising hoardings to share the clubhouse lead with Waikato professional Jim Cusdin.
Local professional Jared Pender produced the equal best score in the afternoon field with David Klein - rounds of four under par 66.
But it was Hendry who set the pace. The New Zealand rep sporting a shaved head made six birdies and one bogey on the 8th to back up his confident talk ahead of the first round.
The three time winner on the Charles Tour was happy with his start in the wet and squally conditions.
"I really enjoy playing here," said the 31-year-old.
"This course suits my style of play. I want to play these tournaments at a high level and I expect to be near the top of the leaderboard."