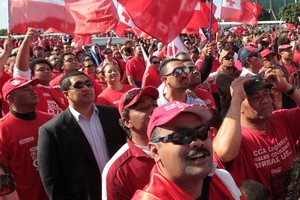 If crowd support really does play an important part in boosting a team on the field, then the Tongans may well be unstoppable at the Rugby World Cup.
With most of the teams having touched down in New Zealand already, Tonga has blown away all other official welcomes.
Over 7000 fans created gridlock around Auckland Airport for their arrival yesterday compared to just a couple hundred Aussie supporters who greeted the Wallabies today.
It was a sea of red and white, as Tonga's loyal supporters waved flags, banners and cheered their side led out by captain Finau Maka.
The massive turnout surprised police and airport staff, who initially struggled to ease traffic congestion.
Tonga's passionate welcoming committee even dwarfed the official All Blacks welcome at Aotea Square, with a comparatively low 3000 fans attending.
Samoa sits high on the 'welcoming leader-board' with a reported 2000 flag waving fans at Auckland Airport. Fiji might sit just below them after they too attracted impressive crowds, and in Wellington, a hundreds of rowdy fans cheered for South Africa.
The USA team also received a very warm and crowded greeting, with over 5000 people lining the Whanganui River to watch them row down in Waka.
- HERALD ONLINE