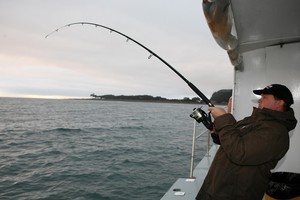 We are still in winter fishing mode even though the first hint of spring has brushed the waterways. This means you don't have to burn much petrol to reach your snapper spot.
If you fish the Rakino Channel in summer, all you have to do is switch your attention to the edges.
Reconnaissance is the key and one approach is to study the terrain at low tide. Look for rocks and kelp beds, which show up as dark patches in shallow water, for this is where the resident fish will be holed up over winter. These are snapper that have elected to remain and feed on crabs and shellfish after the bulk of their brethren have headed for deep water in search of warmer temperatures. It may seem contradictory, but deep water holds temperature far longer than the shallows.
Our coasts are rich in such habitat and there are endless stretches of reefs and rocks. Around Auckland the choice is varied, from the foreshore along the East Coast Bays to North Head, Bean Rock, Browns Island, St Heliers Bay Reef, Meola Reef, Musick Point and around the islands.
Snapper like current. In fact all fishing relies on current whether it be trolling for marlin along a current line or spotting a trout sitting in a flat spot behind a rock in a swirling river.
At sea, currents are much easier to find and a comfortable spot to stop for lunch in a sheltered bay will be the last place to drop a line. The rocky points or headlands jutting out on each side of the bay are where the fish can be found. And the side where the current is sweeping in from deep water will be the one to fish.
It is the same with a reef or rock. Fish will be gathered in the up-current side, which changes with the tides every six hours.
Depth is not so critical for you will hook fish in one or two metres of water, but proximity to deep water does help. It may also be the windy side, because wind and tide often change together. Having the wind and tide holding your boat steady so the stern is facing the fishing zone is important. If these factors are not lined up, it is better to go somewhere else.
Start at low tide so you have plenty of time for your berley to take effect, for without berley you are wasting your time. There are not large numbers of fish moving through as there are in summer and the snapper are not feeding actively as their metabolism slows down in cold water and bite times are shorter.
So you have to tempt them into biting and the answer is plenty of berley. Heaps of berley, with maybe two bombs out to start with a big hit. It is a good idea to thaw out one overnight so it is nice and soft and disperses quickly.
As well as berley, small pieces of fish, or groundbait, can be tossed out in a semi-circle, to add to the temptation. This can be any old bait that has thawed and is too soft for using on the hook, but cut it into small pieces.
Because the fish are timid on the bite, any weight on the line can deter them, so the hook or hooks can be tied directly to the main line with no trace, swivel or sinker. The higher hook-up rate will more than compensate for the occasional fish lost and line need be no more than 8kg breaking strain. A lot of experienced snapper fishermen use 6kg and do well. A light line allows longer casts, and has less resistance in the current and wind, so you have less belly in the line. The more direct your contact with the bait, the more effective your strike.
Rods need to be suitable for casting a light bait a useful distance, so they will be 2m or 2.5m, equipped with light but good quality spin reels such as Rovex or Fin-nor or Shimano.
Baits should be small chunks of pilchard or half squid on 6/0 or 7/0 hooks with the point protruding.
The snapper will nibble at the bait, not compete for a bait as they do in summer when one fish will rush in and grab the bait and race away.
Let the fish nibble at the bait and, when the line starts to tighten, lift the rod and wind at the same time to set the hook.
It is all about feel. The rod should be pointing at the bait - not sitting on a rod holder at right angles. Holding the rod under the arm with a finger on the line is a good approach, with the reel set on strike so that the pressure can be applied quickly by winding and raising the rod.
While this style of strayline fishing does not usually score large numbers of snapper, you will take home some fat fish in top condition.