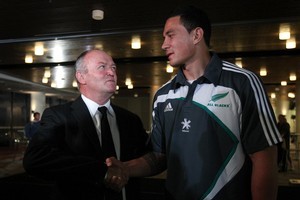 Kiwis are "switching off" Sonny Bill Williams because of his contract controversy, says New Zealand's greatest All Black.
Sir Colin Meads said the 26-year-old was spoiling his reputation over a signing saga that worsened this week with the star's announcement that he would delay his decision on whether to stay with the New Zealand Rugby Union until after the World Cup.
The move - a back-pedal from the All Black midfielder's earlier pledge to firm up his future after a 2012 Super 15 season with the Blues or Chiefs - came after a sponsorship squabble in which he was blocked from endorsing Pure Energy, a drinks rival to NZRU commercial partner Coca-Cola.
Echoing the sentiments of dozens of online comments yesterday, Sir Colin told the Herald that Williams was "trying to have two bites of the cherry" over the sponsorship row.
"I think the big thing about them is that they earn huge money from the rugby union and they are your boss - and if they say you can't advertise something else, then that's the rules as far as I'm concerned," Sir Colin said.
"It doesn't go down with the public. He's tarnishing his image by saying he's not going to sign and 'I'm not sure what I'm going to do.'
I think he's a hell of a nice guy ... but now the general public is switching off him."
Sir Colin also believed the fewer cup games Williams got, the more likely he was to leave.
The Sydney Morning Herald has reported Williams is considering a return to the NRL and that speculation has linked him to the Sydney Roosters.
Many fans hit out against Williams on the Herald's rugby Facebook page yesterday, and in a nzherald.co.nz poll answered by more than 1400 readers, 65 per cent did not want Williams to re-sign with the NZRU.
Julie Beazer, among those who commented, believed Williams' high-profile manager Khoder Nasser and fellow Nasser client Anthony Mundine were damaging his career.
"They are ruining (if it isn't already ruined) his career. Ego, sponsorships, boxing ... just play the bloody game," she wrote.
Rugby commentator Phil Gifford told Newstalk ZB yesterday the relationship between Williams and Nasser was similar to that between Elvis Presley and Colonel Tom Parker: "It seems the management has called all the shots," he said.
All Black legend Andy Haden was reluctant to comment on the issue, but said: "I hope he makes some decisions that are good for rugby and then after that, perhaps good for Sonny Bill."
All Blacks Supporters Club managing director Kevin Dittmer backed Williams, saying "at the end of the day, it's Sonny Bill Williams' choice.
"I don't see how the New Zealand public can be commenting on Sonny Bill Williams' situation when they don't know everything that's going down."
Meanwhile, the coaches of the Blues and Chiefs still hope they will secure Williams for next year.
Chiefs coach Dave Rennie told the Herald: "Nothing's changed from our point of view - we've put our best foot forward in trying to encourage him to come to us but the key thing for me is that he's got to want to come to the Chiefs."
Blues coach Pat Lam could not be reached for comment yesterday, but told a news website that signing Williams would be a great bonus.