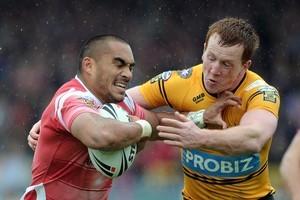 While many Kiwis have made their mark on British league over the years, surely none can match the playing dynasty created by the Leuluai family.
Five members of the family have played in Britain over the last three decades and another famous chapter was set to be added overnight when Thomas, representing Wigan, faced cousin Kylie (Leeds) in the Challenge Cup final.
Thomas' uncle Phillip spent three seasons turning out for Salford in Super League, while Thomas' younger brother Macgraff plays for the recently promoted Widnes Vikings.
The greatest of all the Leuluais was Kiwi legend James. The father of Thomas and Macgraff notched up more than 300 games for Hull and scored more than a century of tries.
"I'm not sure why it happened like this," says Thomas. "We didn't all set out to play here but England has certainly been good to us. And it is a bonus to have so much family around when you are far from home."
Thomas is aware of his father's reputation in the north of England, although it wasn't discussed much around the dinner table.
"Dad didn't really talk about footy," says Leuluai. "He was pretty modest. But he must have done something right - people over here still talk about him all the time."
For good reason. Along with fellow Kiwis Gary Kemble, Dane O'Hara and Fred Ah Kuoi, he played in a golden era for Hull when they won the Premiership and Challenge Cup as well as many other trophies.
Nicknamed 'the Finisher', Leuluai in his pomp was a sight to behold. His sidestep remains one of the best ever - move over Benji Marshall - and he had a rare ability to step at full pace, without breaking stride. Combined with a vicious body swerve, it was lethal.
You Tube reveals some treasures, including a try against Castleford in 1983 when he threw in four sidesteps in quick succession, leaving a hapless fullback behind.
Most memorably, he starred in the 1985 Challenge Cup final, often seen as the greatest game of rugby league played on British soil.
Wigan, captained by Kiwi Graeme West, had Australian stars Brett Kenny, Paul Dunn and John 'Chicka' Ferguson, as well as British internationals Shaun Edwards and Henderson Gill. Apart from their Kiwi quartet, Hull could count on Garry Schofield, Lee Crooks, John Muggleton and the incomparable Peter Sterling.
Down 28-12 with 16 minutes to go, Sterling inspired an unlikely comeback. Leuluai sprinted in for two thrilling tries - his second voted the seventh greatest try in the history of British league - but Hull came up just short, 28-24.
Thomas was born six weeks after the final, and has proudly watched the highlights several times, revelling in the halves battle between Kenny and Sterling, as well as his father's deeds.
Before today's match, Thomas had never been to Wembley but it was a relief to make the final, after three close losses over the last three seasons. Last year was particularly galling, when Leeds scored in the last 30 seconds to send the Warriors out at the quarter-final stage.
"That was one you never really forget," says the 22-test Kiwi. "We clocked off early and they scored on the bell."
Leuluai says facing his relatives is not that difficult but also something he doesn't particularly enjoy. Cousin Kylie tips the scales at 109kg - almost 20kg heavier than Thomas - and has been an effective impact player off the bench for Leeds.
Nicknamed the 'Hulk', the 33-year-old played in Australia with the Roosters, Tigers, Eels and Sea Eagles and is reputed to still hold the NRL bench press record of 225kg.
"He is not much fun to tackle," says Thomas, "but I have always looked up to him."
Kylie lives an hour away, and the pair will often get together for barbecues and meals but pre-match ribbing or post game gloating only extends to a few text messages.
Macgraff, 21, who worked as a plasterer before signing a full-time Super League contract in July, is also a prop and lives downstairs at Thomas' house. They will face each other next season but Thomas says there are no issues living together.
"It should be fine," says Thomas. "We can leave it on the field. Though if we win, I'm going to make him cook for me."
Thomas comes off contract in 2012 after five seasons and will be "looking for a job". It may be time to return home, though he has refuted speculation linking him with Souths. Shaun Johnson and James Maloney might block a return to the Warriors.
"I'm open to anything and wouldn't say no," he says of a return to Mt Smart, where he played 21 first grade games in 2003-04. "But it's a while away yet, so I haven't really thought about it."