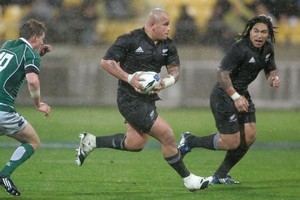 The Rugby World Cup, however it may turn out, could have been so much better in a competitive sense.
Let's face it - for all the IRB's millions, and rugby's extravagant dreams of world domination, the same old famous five will contest the Webb Ellis Cup again and even then only the All Blacks are in decent shape.
Rugby should forget the global dream and sort out the backyard ... especially the Pacific Islands.
When you consider how England is blatantly using its power to bolster the national side with players not remotely English, it is time for rugby to start levelling the playing field.
When it comes to international borders, I'll admit to changing my mind on letting players switch teams, having seen how the rich are getting richer while the poor are shafted.
The superpowers love to parade their world rankings, but they don't even play in Suva, Apia or Nuku'alofa. If they did, those rankings might not be so impressive. How can a so-called international sport claim credible rankings when three leading teams never play the best sides on home turf?
There is a disturbing atmosphere of exploitation, perhaps linked to colonial ways, about the way rugby is run.
The NZRU might also be more open minded, or innovative, in finding ways to allow Pacific Island test players to earn in this country's professional teams instead of chasing away a superstar like Rupeni Caucaunibuca.
Rugby is in a unique situation, where many of the best players are eligible for vulnerable countries with no power in the game.
Specifically, the IRB needs to reconsider the position of the Pacific Island countries in terms of player eligibility. Fiji, Samoa and Tonga in particular have so much to offer and should have the right to offer it. Right now, they are losing players who are rightfully theirs. This will only get worse as Australia realises the importance of drawing more Pacific Island players into the Wallaby ranks.
At the very least a strong case can be made that players who make brief appearances for teams such as the All Blacks should be able to play for their countries of heritage.
One way to achieve this might be to grade all test matches, and apply the current rules to only the highest level of internationals.
The IRB's latest position means that once you have played for one country you can't play for another, and there are sound reasons for that rule. It creates clearly defined national sides, builds patriotism, and gives international tournaments legitimacy.
But a lot of tests aren't overly legitimate contests any more, including in the Tri-Nations. Coaches are using more and more tests as trials because the World Cup has taken on overwhelming importance.
We were sitting around the Herald office this week, mulling over the extraordinary number of All Blacks in recent times. Many of them, quite frankly, were stop-gap measures of even dubious Super 15 quality and never long-term test prospects.
When this experimentation robs the Pacific Island countries of players who would not only strengthen their World Cup campaigns, but also make the tournament a far more thrilling venture, then you have to cry foul.
An example is the Agen-bound Hurricanes prop John Schwalger, who was born in Apia and came to New Zealand aged 4. He will no doubt delight in being an All Black and it will have increased his value as a professional. But his selection in 2007 was a bizarre left-field pick.
He played a test against midgrade Canada, and was a replacement against Ireland in 2008. That signalled a hasty end to his All Black career, as was always going to be the case.
Schwalger could be a vital part of the Samoan team. He isn't All Black class, but he is very experienced player in the rung below.
If players have taken part in legitimate (or reasonably legitimate) competitions such as the World Cup itself, the Six Nations, or Tri-Nations, then fair enough - a one-country rule at that level is important for the game's international credibility.
Those tournaments could be given an A grading, along perhaps with Lions tests, etc, etc. But anything outside that should not preclude a player such as Schwalger switching to Samoa if he wishes.
Others may want the rules opened up even further. The bottom line is this: well-formulated arguments need to be made to the IRB and the world body needs to listen.