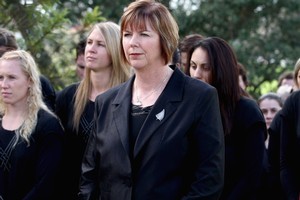 The Australian coaching position has been sorted, now the calls are growing louder for Netball New Zealand to provide some clarity on the Silver Ferns' top job.
Netball Australia this week confirmed former Adelaide Thunderbirds assistant coach Lisa Alexander will take over from veteran coach Norma Plummer.
But things remain quiet on the home front, with the official line from NNZ being they are still undertaking their review process with an announcement expected next week.
No announcement three weeks out from the New Zealand squad camp would suggest the Silver Ferns coaching gig can really go to only one of two people: Ruth Aitken or her assistant for the past four seasons, Waimarama Taumaunu.
NNZ chief executive Raelene Castle has confirmed the position will be advertised regardless of whether Aitken decides she wants to stay on for another term.
From a PR perspective, opening the role up for applications is necessary. But while there is the possibility of a new candidate popping out of the woodwork, it will be somewhat of token gesture.
The reality is none of the recent ANZ Championship coaches appear ready to step into the hot seat, while any overseas applicants is likely to be told "thanks but no thanks".
If Aitken does announce she is reapplying for her position, then take it as read that she believes she still has more to give to the role and Netball NZ is still keen for her to stickaround.
If Aitken decides after the review process that it is time to step aside, it is almost certain Taumaunu will be promoted to the top coaching job after the appointments process.
While there appears to be plenty of support for the widely respected Taumaunu, the only concern is that she is already a highly influential member of the Ferns coaching set-up and very little will change in the New Zealand programme.
She is likely to keep the same key personnel on board, including her long-time coaching sidekick Lyn Gunson.
While there may not be any fresh faces, there will need to be a fresh approach to the programme for the next four years if the Ferns are going to keep pace with the ambitious Alexander's Australian side.
There is a third option, say some observers. That is for Aitken to stay on in a caretaker role until the end of the year because of the limited time-frame the new coach will have before the October tests.
It will also mean the new coach, who will be under great pressure to get immediate results in the home series against England and the Constellation Cup tests in Australia, will be protected from the media spotlight. Instead the newcomer can start on a more low-key note with the tour to Jamaica in January next year.