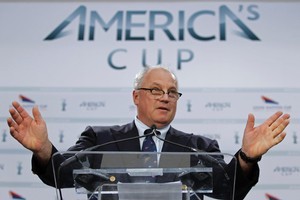 The next generation of competitive sailing will take shape this weekend in Portugal, where the eight America's Cup teams will confront each other for the first time.
Round one of the America's Cup world series, to be raced in identical super-sleek new AC45 catamarans, begins overnight off Cascais.
The world series, which will include up to 18 regattas, will be a forerunner to the big Cup showdown in San Francisco in 2013. And if the slick advertising for the series is to be believed, the regattas "will change how you see sailing forever".
Regatta director and chief executive of America's Cup Management, Iain Murray, said the regattas would feature a number of innovations aimed at making the sport a more exciting spectacle for television audiences and shore-based fans.
The new format will bring Formula 1-style sailing close to shore in extremely fast boats on tight, short courses with a mix of speed trials, head-to-head match racing and all-out fleet racing.
Eight international teams will start in Cascais, with Oracle sailing two entries - one skippered by young gun Jimmy Spithill, the other by chief executive Russell Coutts.
Cup holders Oracle have an obvious advantage with the wing-sailed technology, having designed the concept and been more involved in testing the new cats.
But Emirates Team New Zealand skipper Dean Barker believes his crew is still very competitive. "Oracle are certainly the ones to watch in the early stages. There's no question it's going to be tough for all the challengers to give them a run, but we're looking forward to it."
While Barker and his crew take on fellow Cup challengers in Cascais, Emirates Team New Zealand will also have a team competing in the Extreme 40 series in Cowes.
Skipper Adam Beashel will be joined Chris Ward, Richard Meacham and Andy McLean as they look to continue their recent run of good form in the series.
Team New Zealand has been a steady improver, leading the series ahead of Artemis.
AC World Series
Stop 1: Cascais, Portugal
August 6-7: Fleet racing and speed trials
August 10-12: Both fleet and match racing
August 13: Match racing finals
August 14: Fleet racing finals
Teams: Emirates Team New Zealand (Dean Barker), Oracle (Jimmy Spithill), Oracle (Russell Coutts), Artemis Racing (Terry Hutchinson), Aleph (Bertrand Pace), China Team (Mitch Booth), Energy Team (Loick Peyron), GreenComm Racing (Vasilij Zbogar), Team Korea (Chris Draper).