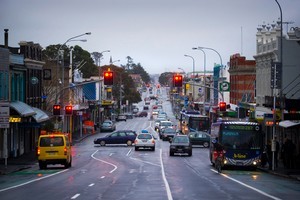 Hosting the World Cup will be a great occasion for New Zealand. It will be exacting, exhausting and expensive.
We will be invaded by perhaps 100,000 visitors who are keen to watch the rugby showpiece and sample life here.
Those used to the relative serenity and calm of New Zealand will feel the turmoil and pressure these big events create.
Glitches will be inevitable. Travel will be congested and fraught too if there are repeats of this week's delays because of icy airport runways.
Hotels will be full and frantic, cleaning and hospitality staff will need more stamina than Lisa Tamati.
I hope New Zealanders and the nation breathe deeply, embrace the event and show more grace and humility than we have done at home and overseas during other World Cups.
The All Blacks may win it, they may not. These events are unaccustomed knockout tournaments for New Zealand, they have a rhythm all of their own.
They also bring World Cup and IRB officials here, in their droves, watching as New Zealand takes the financial risks and they saunter off with the profits.
What a great scheme - for the IRB. Yes, New Zealand knew the rules when they pitched their bid to stage the Cup but they are iniquitous.
Member nations should not be penalised for hosting a global event nor should they be subjected to the lofty views delivered by IRB chief executive Mike Miller.
His recent comment that New Zealand will never host another World Cup was crass, ill-timed and just the sort of sneering view Kiwis despise. He took New Zealand to task for price-gouging and while it is reprehensible it is a reality of these events and one which has been commonplace at previous World Cups.
New Zealand may not hold another World Cup. The event should be shared around the globe and the concept may alter. But after this event, New Zealand, their Sanzar partners and any other nations with some courage, should demand a change to the regulations or the sport's rulers.
Sanzar tours to the UK line their individual union coffers, now we are holding a tournament to give the IRB more loot they say they will distribute.
How about they wait until the World Cup accounts are tallied after the tournament and then at least divert enough money back to New Zealand so we break even.
Will the anachronistic pooh-bahs do that? Will they heck.