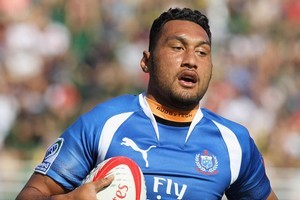 AUCKLAND
Papatoetoe are the Alan McEvoy Memorial Trophy holders for the first time in the club's history after University let the title slip in Auckland yesterday.
Leaders University needed just a bonus point to guarantee the silverware ahead of the Gallaher Shield quarter-finals next week but lost at home 22-14 to College Rifles.
Papatoetoe won a tense 19-14 victory over Pakuranga to give them the same points as University but Papatoetoe's early round win between the teams clinched the title.
The new title holders scored three tries in the first 10 minutes against Pakuranga to race out to a 19-0 lead. Outstanding captain and No 8 Ben Masoe started it with a 40m burst from the opening kickoff to set up lock Sika Poching, before combative midfielder Junior Tavaga made a slashing break for the second try.
When first-five Junior Fosita broke clear from near his own line to give Samoan squad member Timoteo Iosua an easy run to the line, it looked all over for Pakuranga but they managed to stay in the game thanks to some staunch defence and botched try opportunities from Papatoetoe.
Pakuranga kicked three penalty goals to close to 19-9 before another dropped ball gave replacement Bryn Hall a clear run to the line. Down 19-14, Pakuranga threw everything at the home team but in the end will rue two simple penalty attempts missed as Papatoetoe retained the Sir Fred Allen Challenge Cup.
NORTH HARBOUR
North Shore made light of a heavy contribution to the representative side with an easy win over Western Pioneers in yesterday's North Harbour premier semifinals, producing probably their best performance of the season.
Shore will now meet Silverdale in the final next weekend.
Hayden Abercrombie again proved an able replacement for Ben Botica both in directing play at first five-eighths and in goal-kicking by finishing with 22 points. Also in top form were hooker and captain Jamie Hincho and halfback Lance Hamilton.
Silverdale were much harder pressed in their semifinal against Massey, winning a thriller 35-34 in which each side scored four tries. Goal-kicking has been a weakness for Silverdale all season but yesterday first five Clayton Kiwara missed only one of seven attempts to match Massey's Richard Lobb, who finished the club season in excess of 200 points.