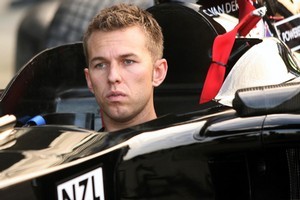 New Zealand open wheel racer Chris van der Drift arrived back into the international Superleague Formula with a bang after missing the opening round of the series due to his commitments in the World Series by Renault 3.5litre championship.
In the latest round of the Nations Cup in Zolder, Belgium, Van der Drift raced as if he'd never been away snatching a fourth, an eighth and a fifth in the three races to finish sixth for the weekend.
Due to his consistent finishes, New Zealand now sits seven on the championship table.
In the Superleague last season, Van der Drift posted four victories and another six podium finishes in the first half of the series. "I was a bit annoyed I couldn't get to do the first race [of the Superleague] because I was ready for it, unlike last year when I only found out a week before I was driving," he said. "I'm really looking forward to it because I now know the car, I'm much fitter now.
I like driving these cars, it's fun and you've got so much horsepower."
Van der Drift's weekend started well when he battled it out for pole with English driver Craig Dolby. Van der Drift progressed from Group A, with the fourth-fastest lap and had a quarter final against Australian John Martin.
In a surprise, the Kiwi driver won through to take on Luxembourg pilot Frederic Vervisch in the semifinal.
A narrow victory over Vervisch saw Van der Drift line up against Dolby in the final. The rain arrived and Dolby took his chances to edge out the New Zealander who at one stage slithered off the track.
"Being the one leading the way in the final I had to judge the grip on the track, which was difficult, conditions were tricky, and halfway around the circuit I locked the rears and went straight on," Van der Drift said.
Dolby said he was excited to have Van der Drift and German driver Max Wissel back in the championship: "They are two of my best friends ... I'm really happy for them. I know that they will both be as strong as ever."
At the end of the three races over the weekend, there were three different winners and the Kiwi driver couldn't match his knockout form and missed out on any podium finishes.
But Van der Drift is keen to get behind the wheel again at the next round in Brazil, on October 8-9.
Fans will get their chance, hopefully, to see Van der Drift in action from December 8-11, at the last round of the championship that is still subject to contract and FIA approval.