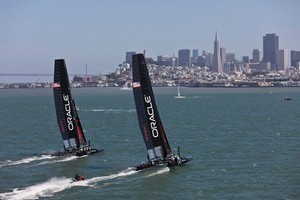 Organisers of the 34th America's Cup regatta have set the dates and format for the preceding Louis Vuitton Cup.
The Louis Vuitton Cup regatta, also known as the America's Cup Challenger Series, is designed to identify and help create the strongest possible challenger to meet the defender in the subsequent America's Cup Match.
The organisers say the 2013 Louis Vuitton Cup will have five stages, with all of the challengers participating in at least the first three.
Regatta director Iain Murray says there will be nearly two full months of competition, with all the challengers racing for at least the first five weeks.
"As a group, the challengers wanted to introduce a format that would strike a good balance between allowing the potential of some of the new teams to develop over time, while still ensuring the top teams were constantly improving, so that the eventual winner will be prepared to take on the defender," he says.
The first day of racing will be July 4, and the last possible day September 1.
The first stage will consist of a series of four fleet races. The winner of each race will score 10 points, with six points for second, and two for third.
The second and third series will both be round-robin match race series. The winner of each race in the second series will score 10 points and in the third series 12 points.
The top four teams will progress to the semifinals, with the top-ranked challenger racing the fourth-placed team and the second-ranked team racing the third-placed.
Both semifinals will be best-of-seven, with the first to win four races progressing to the final.
The final will be a best-of-nine race series to decide who will face Oracle Racing in the America's Cup Match.
Emirates Team New Zealand hold the Louis Vuitton Cup, having won it in Valencia in 2007.