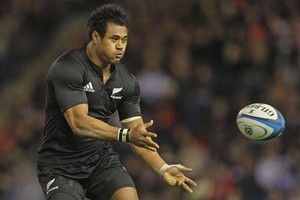 The longer Super Rugby season may have taken a physical toll on some players but it also allowed several areas of All Black selection contention to subside.
Even before the knockout rounds, the All Black squad had become easier to select than it looked midway through the season. Back in March and April, there were a host of promising challengers - Robbie Fruean, Matt Todd, Jamie Mackintosh, Ben Smith and Jared Payne.
While their stars shone, many of the men the selectors saw as bankers (Ma'a Nonu, Ali Williams, Liam Messam and Hosea Gear) were struggling for form. Others such as Richie McCaw and Mils Muliaina were injured and there was a growing sense of unease.
Last November, Graham Henry estimated they had maybe only six or seven places open in their 30-man squad. But in the first half of Super Rugby, the squad they had in mind at the end of last year would have been tough to pick.
Slowly, though, the seasoned professionals have climbed into their work.
Nonu, despite his issues with coach Mark Hammett, began to hit the line with more conviction. Williams built the component parts of his game in the final weeks. Messam's workrate never dipped and his ability to play within the pattern was constant.
Gear started to play with confidence while a handful of others - Kieran Read, Keven Mealamu, Jerome Kaino and Owen and Ben Franks - built on standards that were high from the first weeks.
The selectors were given the easy ride they were after. They didn't want to be picking players on reputation, not in any great numbers anyway. Form and class is the ideal combination and by the end of the round-robin, the selectors had just about settled on the bulk of their team.
In naming their wider training squad, much of their thinking became clear.
There were few surprises other than Ben Afeaki; there as a sign that he's on the radar rather than seriously in contention.
Where the selectors came under welcome pressure was in the way a few discarded All Blacks bounced back. Aaron Cruden, after having his confidence shot by being dropped early, began to run like his old self.
There was extra distance on his kicking out of hand and he was really the only first five who made a semi-convincing case. The others all fell away and Colin Slade never had a chance due to repeat broken jaws.
But it appears the selectors have been tempted by Slade's better kicking game and ability to counter-attack.
This was probably the toughest call of them all but public opinion would back the decision to go with Slade - in a World Cup year, it is certain that whoever plays first five for the All Blacks will have their kicking and defensive games tested to the full and Slade is stronger in both areas.
Cruden can run and he reads the game well but there would be significant unease at the thought of him kicking for goal in a World Cup semifinal or having to deal with Schalk Burger and Bakkies Botha charging down his channel.
Wyatt Crockett has made an impregnable case for inclusion and will almost certainly be named this afternoon. How can they leave him out?
Zac Guildford is another who was asked to fix certain parts of his game and his life. He has, according to those in the know, ticked both boxes.
The game has swung back towards his skill set and his composure under the high ball is once again a valued asset.
Ben Smith, another with a high ball-kick return game, was impressive until the final few rounds.
He made the wider training squad but is not expected to be included today - partly because Isaia Toeava is thought to be fit enough to resume playing again and partly because there are doubts about whether Smith can play his best rugby under pressure.
Adam Thomson reacted positively to advice on where he could improve and made a convincing play for a recall; exactly what the selectors wanted. By the end of the round-robin, they had five loose forwards picking themselves - McCaw, Read, Kaino, Messam and Thomson.
There will be some lingering concerns about fatigue and the emotional toll Super Rugby will have taken on some of the Crusaders but the past six weeks have given the selectors the certainty of mind they were after.
There has to be some wariness in predicting what will be announced but it is hugely unlikely that there will be massive contention. The close calls will be in the back three, back-up first five and third hooker. The ultimate choice will be determined by the type of game the selectors have in mind and who fits their systems best.
Much will also depend on the injury updates of Israel Dagg, Anthony Boric and Tony Woodcock. Without question Dagg, Boric and Woodcock would be in if they were fully fit.
The question is whether they are included tomorrow and others miss out as a result. Or will the panel want to enter the Tri Nations with 30 fit bodies and draft in the wounded after they prove their fitness in the ITM Cup?
Areas of contention
THE BACK THREE
CERTAINTIES
Mils Muliaina
The 94-test veteran stayed in fourth gear for much of the campaign. A key member of the leadership group, he will slip into fifth come the Tri Nations, playing his usual error-free rugby.
Hosea Gear
Had to contend with being part of an underperforming Hurricanes team in turmoil, yet always showed how dangerous he can be running in broken play. His size and power also allow the All Blacks to bring him off his wing and set up targets in midfield.
Isaia Toeava
Was the best outside back in Super Rugby until injury took him out. Is thought to be fit again and with his ability to play across the back three and centre, he is a must pick.
CONTENDERS
Zac Guildford
Has electric pace, great workrate and the ability to create space for others. Still not an out and out finisher but his work under the high ball and sustained form are likely to see him earn a recall.
Ben Smith
Capable of playing fullback and wing, he was hugely impressive in the first three-quarters of the competition. Went quiet towards the end and will probably be told he's the next cab off the rank.
Cory Jane
Had a horrible campaign and got caught up trying to determine his future. But he's been a classy player for the All Blacks and the coaches will back themselves to bring his game up at least 15 per cent.
Sitiveni Sivivatu
Has been a favourite of this panel for some time but started the season out of shape and, while he improved, never hit the heights he needed to. The selectors can only really carry one wing on reputation and, with Sivivatu off to France after the World Cup, Jane is likely to get the lifeline.
WILD CARD
Sean Maitland
Has tremendous pace and scores tries. But while there are calls for him to be included, closer analysis of his game shows there are areas of concern - such as his defensive positioning.
CASUALTY WARD
Israel Dagg
It's not inconceivable that, if the All Blacks play South Africa in a World Cup semifinal, they will select Muliaina at fullback, and Toeava and Dagg on the wings. Dagg would have been picked had he been fit but is hopeful he can still make the Cup squad.
FIRST FIVES
CERTAINTY
Daniel Carter
Let's not waste time explaining why.
CONTENDERS
Aaron Cruden
Has improved his kicking out of hand and was starting to run with confidence towards the end of the campaign. There are concerns about his lack of size and clout on defence but if the Wallabies can select Quade Cooper...
Colin Slade
Two broken jaws ruined his season and he's managed only a couple of ITM Cup warm-ups. What do the selectors do? Select him ahead of Cruden today, or leave him with Canterbury and call him up for the away leg of the Tri Nations? Word is they have done the former.Hookers
CERTAINTIES
Keven Mealamu and Andrew Hore.
CONTENDERS
Corey Flynn
Has been a key part of the best front-row in the competition. But his throwing is notoriously unreliable in the test arena, while some of his ball retention during the Tri Nations last year let him down.
Hika Elliot
Impressed with his work on the field on the end of year tour in 2010 and also his improved attitude off it. But didn't scream pick me during Super Rugby and may not have done enough.