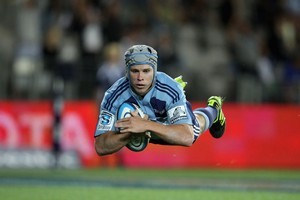 When he first came on the scene three years ago, it's fair to say Lachie Munro looked like what he was - a nervous rookie.
In 2011, the boy who never thought he'd be a professional rugby player because he was too small at school has become an integral part of the Blues' push towards an elusive Super Rugby title.
He is clearly no physical giant. His official statistics say he is 1.8m tall and 88kg but the casual observer could be forgiven for thinking he isn't even that big.
His white headgear, an essential piece of equipment insisted on by his mum when he was a boy, has become a familiar sight in the Blues outfit; discarded as he kicks for goal, mostly successfully.
"I started wearing it when I was five - it's like my safety blanket," Munro says.
His goalkicking has been one major reason why he's become a key part of the team - earning a starting position even ahead of returning All Black winger Rene Ranger against the Reds last night.
He's operating at 77 per cent for the Blues since becoming a regular - but he has made a habit of kicking the pressure goals. He has also managed five line breaks this season.
All coaches like that kind of goalkicking record and it's a measure of 24-year-old Munro that he has won the kicking duties off All Black Luke McAlister - although the Blues midfielder still takes the long ones. McAlister started the year in fine goalkicking form but went off a bit, giving Munro his chance.
He took it in his first year in Super Rugby after three years with Auckland in what was the Air New Zealand Cup. However, at the end of 2008 he was not re-contracted and moved up the road to Northland.
It looked like a demotion; as if his Super Rugby career would not take off and there was an element of nervous-new-kid-on-the-block in his early play.
But Northland worked well for Munro: "I enjoyed the challenge of going up there, playing in a new team in a different part of the country. I almost signed with Hawkes Bay but Northland gave me a good deal."
He attributes his success in 17 of his 22 attempts at goal for the Blues this season to practising both the physical and mental aspects of kicking.
"I used to kick with my old man. He would give me pressure tests - that I had to kick five in a row from the 22m line in front before he'd let me go home. Now I pretty much try and lose myself in each kick so I'm not thinking about the situation or its importance."
He said he is intrigued by Dragons rugby league player Jamie Soward's expansive routine when he kicks but has no immediate plans to try to emulate the league star.
"I'm impressed by the way he can do such a complicated thing the same every time because that's basically what goalkicking is. You've got to have a routine that works. I like to keep it more simple."
The other strong string to Munro's bow is that he is a genuine utility back, covering first-five eighth, fullback and wing.
It's not just goalkicking where he has been making his presence felt - he has scored two key tries in recent matches.
He was forgiving after copping a pair of flying knees, courtesy of flanker Phil Waugh, as he dotted down against the Waratahs last weekend which resulted in a bruised liver.
"I had a look at the tape and it looked as though he was pretty committed."
First five is his original position but, while he's happy to cover 10 when he needs to, he is now enjoying being out wider with a bit more time and space - although it was his long pass that was picked off for the Red's first try last night.
A bracket for a starting position is not always viewed favourably by players, but Munro regarded being lumped with Ranger as a possible starter as a badge of honour.
"I was just proud of myself to be at the point now where me and Rene Ranger are bracketed. He was an All Black not long ago, he's a fantastic player."
Munro still has aspirations of a black jersey despite all the money on offer overseas: "That's why you stay in New Zealand. I'm happy here."
Munro also speaks fondly of his "little boat" which he takes out whenever he can for a fish.