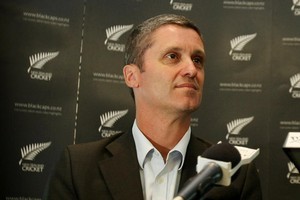 New Zealand's international cricket bag is bulging for the next nine years, but chief executive Justin Vaughan sees one wrinkle: not enough transtasman scraps.
The Future Tours Programme announced at the International Cricket Council's meeting in Hong Kong this week has mapped out a programme for the 10 test-playing nations through until April 2020.
New Zealand are pencilled in for 80 tests, starting in Zimbabwe in October.
They will play India, West Indies and Pakistan 12 times each.
Next come England 11 times, followed by Sri Lanka and Australia, who are scheduled for eight tests apiece.
Vaughan would relish more opportunities to square off against Australia. In addition to those eight tests, the teams are listed to meet in just 10 ODIs and two T20s in those nine years.
"In a perfect world we would have more series against Australia," he said from Hong Kong last night.
"But I guess the flipside is we have far more frequent opportunities against England and India, who may well be the top two teams in the world at the moment."
There is wriggle room for teams to engage in extra bilateral series if space permits.
Vaughan is hoping more matches against Australia can be fitted into narrow gaps in the schedules of both countries.
"Full tours will be difficult but there's a certain will to be flexible and for members to try and work together and schedule more cricket if needed," Vaughan said.
In the next five seasons, New Zealand will host South Africa, England, India and Australia, along with co-hosting the World Cup with Australia.
It is a dream schedule with large financial spinoffs, particularly when India visit.
"Certainly in terms of content we've got a really attractive touring package," Vaughan said.
New Zealand have 143 ODIs and 40 T20s in the FTP, excluding the two World Cup tournaments and three world T20 championships.
Top-ranked India are the busiest nation, with 101 tests to play after the current match against the West Indies in Barbados ends.
The FTP includes a dedicated window for the Champions League each September-October while the Indian Premier League is accorded an unofficial space around April-May.
A test championship playoff is scheduled for England in 2013 and 2017.
TOUR HIGHLIGHTS
New Zealand's Future Tours Programme highpoints
* Will host England for full tours three times between February 2013 and March 2020.
* Will host South Africa and India twice each for full tours from next February until February 2019.
* Between visiting Zimbabwe in October and March-April 2020, New Zealand are due to play 80 tests, 143 ODIs and 40 T20s, excluding the two World Cups and three World T20 tournaments scheduled for that period.