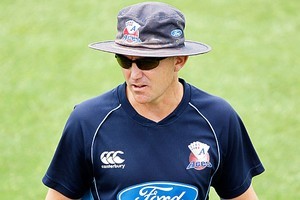 Coach Paul Strang has been rewarded for guiding Auckland to two domestic cricket titles last summer.
The Zimbabwean has been reappointed to the position for another two years.
Auckland won the Twenty20 and one-day competitions in 2010-11.
"We feel that Paul has developed extensively as a coach in his two seasons with us and I think that has been borne out by the team's success this season," Auckland Cricket chief executive Andrew Eade said today.
"We're confident that he'll continue to improve as a coach and can lead the side to greater heights."
Strang joined Auckland at the end of the 2008-09 season and helped them to the four-day title before being officially appointed for a two-year stint in the off-season.
In 2009-10 he guided the team into two finals, losing the Twenty20 decider to Central Districts and the one-day final to Northern Districts.
His next task is preparing the Aucklanders for a tilt at the international Twenty20 Champions League in September before focusing on the 2011-12 season starting in November.
- NZPA