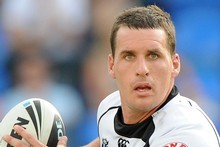 Brett Seymour's facial injury was the result of an on-field collision during the round 11 match against South Sydney, says club doctor John Mayhew.
Seymour has a history of alcohol-related incidents and when news of his injury seeped out yesterday, rumours began spreading that it had occurred during a late-night outing.
The fact that the club did not play last week due to a bye seemed to add weight to those suspicions. However Mayhew said Seymour reported the injury after the Souths match but at the time it wasn't believed to be serious.
"He wasn't assaulted in a nightclub or anything like that," Mayhew said.
"It's fairly straight-forward. Basically he got a blow to his face in the Souths game. He was initially tender over that. We had four days off and then he came back and said it was still a bit sore."
X-rays revealed it was a depressed fracture of his cheekbone. Seymour underwent surgery on Tuesday to have the bone pushed back into place. He is expected to miss two or three matches.
Seymour was sacked by Cronulla and Brisbane for alcohol-related incidents.
By Steve Deane

Email

Steve