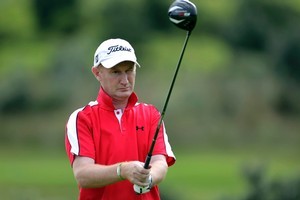 Young amateur Josh Munn kept his cool and collected three late birdies to retain a three-shot lead into the third round of the Muriwai Open on Auckland's west coast yesterday.
The 20-year-old from Palmerston North could have been excused a reaction to the course record 63 he shot in the first round, particularly as the wind started whipping off the Tasman in the afternoon.
But he was one under the card after nine holes and birdied the 15th, 16th and 17th for a four-under 68 and a three-shot lead over experienced Auckland professional Richard Lee, who added a 66 to his first round of 68. A shot further back are professional Alex Tait and Titirangi teenager Sam An.
"My dad rang me last night and told me to stay calm and come out today as if it was the first round," said Munn. "I took that on board and hung in there.
"I was still playing the shots like yesterday but I wasn't getting the putts. The wind was consistent - consistently pissing me off.
"But I handled it and if I keep doing that I should be up there."
The 37-year-old Lee was unhappy with his driving in the first round and decided to change the shaft on his driver. The change worked a treat and the reward was six birdies and no dropped shots. He was particularly happy with his wedge play.
"I've been working with an experienced American pro, Terry Dill, and I picked up some things from him," he said.
"It paid off on the seventh hole from 70m where I gripped right down and hit it to a foot for birdie."
Tait added a 69 to his first round 66. He has yet to bogey and described his round as "just boring, three birdies and no drama".
The 17-year-old An, who has recently been added to a national squad, had three birdies on each nine but bogeyed the par-three eighth.
Long-driving champion Phillis Meti has a two-shot lead over Lydia Ko in the women's field. Meti, who has been competing in Australia, fired a three-under 69 for a total of 144, while Ko added a par 72 to her opening 74.
Sixty-four men made the cut in the Askmetro Charles Tour event at 149, five over, while nine women survived at 153.