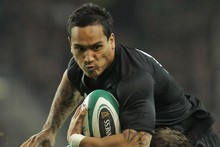 The New Zealand Rugby Union still appear some way off finalising the All Blacks additional test in July.
They've been in negotiations with the Fijian Rugby Union to play a one-off test ahead of the Tri-Nations on July 22.
NZRU chief executive Steve Tew told Radio Sport it's too early to say whether they'll get the Fijians over the line.
"There are some complications with the Fijian team which we are working through as we speak," he said.
"We think they are an appropriate opposition for the All Blacks in terms of what our needs are during that period. They are available and keen. They need a match pre Rugby World Cup and weve always been committed doing what we can for the countries in Oceania."
Tew says Fiji are plan B as initially they were hoping to play Samoa, which would have been a lot easier to arrange.
"They (Samoa) were keen until they worked out how it all looked in terms of their schedule and decided it was just too tough. Which is a real shame because that would have been a lot easier to arrange."
Tew says Argentina is their plan C if negotiations with Fiji fall over but said it would be a lot more difficult for the Pumas to get their team together and could prove more costly.
"We're really keen to make this game relatively cheap to arrange and so the proceeds can go to the Christchurch earthquake fund."
The new Forsyth-Barr Stadium in Dunedin has been ruled out as a venue for the game, as it won't be quite finished in time.
- HERALD ONLINE/NEWSTALK ZB