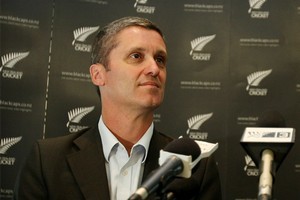 New Zealand Cricket (NZC) has been "blown away" by a donation of US$1 million (NZ$1.3m) by the International Cricket Council (ICC) to help it into new offices after its premises in Christchurch were destroyed by the February 22 earthquake.
The ICC executive board said in a statement today it had agreed to donate $1 million from the profits of the World Cup to get NZC into a new building after its Hereford Street base was badly damaged in the 6.3 quake.
Chief executive Justin Vaughan said the magnanimous gesture was warmly received by NZC although he had yet to be informed of the exact details of the donation.
"It is very generous on behalf of the ICC. I know they were very concerned and saddened by the events in Christchurch at the end of February," Vaughan told NZPA.
He was unaware of any similar donation being made by ICC in the past to a member country and believed the proximity of the earthquake to the staging of the World Cup may have worked in its favour.
"You're sort of blown away really, it is such a wonderful, generous offer," he said.
NZC was operating out of temporary offices at Lincoln and Vaughan said it was looking at the feasibility of relocating permanently to where it also had its high performance base.
"We're working up a current plan to look at what a permanent base at Lincoln would look like.
"The arrangements we have are temporary, but they are more than adequate to get us through for the next six months.
"It is the first place to look - we have our high performance base out here, we now have our headquarters out here so that is definitely our default option," he said.
Meanwhile, Vaughan said he would soon meet with Black Caps coach John Wright to review the team's World Cup performance and look at the retention of bowling coach Allan Donald and assistant coach Trent Woodhill.
NZC would also be starting a search for a replacement for Dave Currie who last week departed from the Black Caps manager post.
"I'd like to think we can move pretty quickly on firming up on Black Caps' coaching and support staff," Vuaghan said.
- NZPA