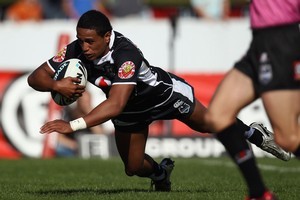 It hasn't been the easiest of births, but an NRL star finally emerged yesterday.
If Glen Fisiiahi's debut against the Eels in round one had a touch of newborn giraffe about it, yesterday's second-up effort was more a case of a thoroughbred colt finding its feet. The man nicknamed Fish had no trouble swimming with the apex predators, it was the Sharks who couldn't live with him. The 20-year-old prodigy scored with his first touch, added a second direct from a scrum and then turned on a blazing 60m run from a Feleti Mateo offload to set up the try that iced the Warriors' first win of the season.
"It feels good," he said. "I'm a bit tired now.
"I just can't wait to go home and relax."
He didn't do much relaxing after being named to replace fullback Lance Hohaia.
"I was thinking about it all week. I just thought if I could go out there and do my job and do my best then I wouldn't be disappointed. I did that I guess."
The pressure of expectation had left Fisiiahi looking a touch jaded, coach Ivan Cleary said.
"I think he probably used up a bit of nervous energy during the week," Cleary said. "He takes it very seriously and when you are playing only your second first grade game and the team is not winning and you know basically you are going to be a target, it is a big job. So he has certainly got a bit of character.
"There were times when he looked really tired, which is what happens when you come into first grade, but next thing you know he scores a try off a scrum. That is the sort of talent he is."
With Manu Vatuvei out for another month and Jerome Ropati gone for the season, it is a talent the Warriors desperately need.
"Fish does bring that X-factor to the team," captain Simon Mannering said. "You saw him running off Feleti today, it was pretty hard to defend.
"It brings confidence to the team seeing a young guy like that come in and put his hand up when it counted. If you give him a bit of space he can create things."
Fisiiahi's first try came after just three minutes when Mannering sent Bill Tupou clear with a round-the-corner pass. He juggled Tupou's inside ball and almost lost his footing, but despite the stagger he was far too quick for the Sharks cover.
"I was struggling a bit, I just spoke to Bill about that pass," he said. "It was pretty suspect on his behalf but I managed to pull it together."
There was no staggering for a second try that came direct from a scrum 30m out, with the Warriors trailing 12-8 11 minutes into the second half. Fisiiahi stepped through the previously rugged Sharks' defence like it was vapour and blasted to the line untouched.
"I kind of envisioned myself before I got the ball and it just happened the way I envisioned it," he said.
Happy with the plaudits, Fisiiahi was most pleased to experience his first NRL victory.
"I was stoked with that. The vibe in the team of brothers now is pretty good. It is a start."
CLEARY'S MEN FINALLY OFF THE MARK
The Warriors sang their victory song for the first time this season with plenty of gusto but there wasn't a lot of cartwheel turning following a gritty first win in Taupo against the Sharks.
With a home match against the Roosters followed by trips to Manly and Melbourne, who could blame them? Yesterday's win may have helped lift the gloom of a 0-3 start, but the road ahead is hardly paved with marshmallows.
The pressure valve may have released slightly, but coach Ivan Cleary still appeared to be wound pretty tight.
"It is just nice to get that first win," he said. "It is like a cricketer trying to get off the mark. Everyone wants their first run. It is the same sort of feeling. We have got a long way to go but it gives everyone a shot in the arm.
"We just sort of hung in there. It was a good, hard-fought win. We are going to have to do things better but it is a good place to start."
Glen Fisiiahi's third-minute try provided the perfect start but the signs were ominous when Jeremy Smith powered over after a sustained period of pressure from the Sharks. Another close-range try to halfback Wade Graham gave the Sharks the lead at halftime but the Warriors turned the screws early in the second spell, with Fisiiahi scoring his second direct from a scrum.
Both sides tired markedly midway through the second spell but it was the Warriors who found the energy to break clear, with James Maloney slicing through for the decisive try. A Fisiiahi break from a Feleti Mateo offload then set up a Krisnan Inu try, which consigned John Williams' late effort to consolation value.
Cleary pronounced himself content with how his raft of selection changes panned out, although Mateo's high-risk approach to the five-eighths role made for difficult viewing.
"I knew it wasn't going to be perfect," Cleary said. "Feleti was giving me a heart attack. In the end he backed himself and got that ball to Fish and we ended up scoring."
Sharks coach Shane Flanagan said the club had no regrets about taking a match that attracted a solid crowd of 14,645 to Taupo.
"We've known about it for a while so we are not going to use that as an excuse," Flanagan said. "The field is the same size and in the same condition. We trained well, the facilities were fine. There are no excuses there.
"We were a little bit off today and we invited them in. We weren't that good. They had to win, they were desperate and they played that way."