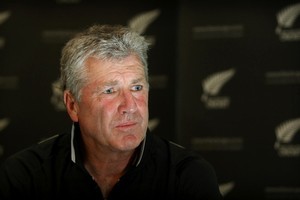 The New Zealand cricket team has received an aggression concession card from coach John Wright for tomorrow's World Cup semifinal against Sri Lanka.
It follows the incident in the quarter-final in which captain Daniel Vettori and drinks carrier Kyle Mills breached the International Cricket Council's code of conduct for the first time in their careers.
"I like the aggression of the team, particularly in the field," Wright said. "That's important. We've got to play with passion and they're showing that. The odd thing happens ... but that's international sport."
Vettori and Mills were deemed to have verbally harassed South African batsman Francois du Plessis after the runout of AB de Villiers.
Vettori lost 90 per cent of his match fee and Mills 120 per cent, meaning he was left scraping together some of last month's savings to foot the fine.
Incredibly, Mills pleaded not guilty to his antics. One would have thought players would need the services of a QC to justify a crack at the opposition when working as a waterboy.
He has since headed home with a quad muscle injury and been replaced by Andy McKay.
New Zealand manager Dave Currie acknowledged it happened at "a pivotal moment in the heat of highly competitive international sport when emotions were running pretty high".
Any cricketer knows tempers can ignite at times in a tight contest. However, the New Zealanders need to ensure they don't look infantile when milling around goading the opposition. It resembles bullying.
Coach Wright has condoned some verbal niggle.
It blends with the theme he has reiterated on this tour that "you can't coach want" and, to be fair, there was plenty of "want" in the New Zealand actions, even if they got out of hand.
The same happened with Wright's endorsement of the aggressive behaviour against Sri Lanka when Nathan McCullum "caught" Mahela Jayawardene on March 18.
Things turned nasty for a period - in tandem with some sublime New Zealand bowling and fielding.
And he has the public behind him, so if he backs, rather than admonishes, the players during such indiscretions he will earn dressing room respect for his loyalty.
"It made reasonably interesting viewing for those out there. It happened and it was dealt with. The players on both sides knew there was a lot at stake, which is what you expect of any South Africa/New Zealand contest.
"I think the boys were committed, they wanted to win and made their presence felt. We're all pretty pleased right now. We did a lot of preparation for that game and achieved plenty of game-plan targets.
"We were probably 20 runs short, but knew if [we] got 220-plus it was defendable. We're making up for it in the field and with the ball."
New Zealand will not win the ICC's spirit of cricket award this year, a gong sometimes viewed as a prize for the best-behaved losers. They have a shot at one of cricket's showpieces instead.
What is required is a stronger batting performance than shown against Sri Lanka in Mumbai. That means plenty of practice against spin.
Hopefully Vettori will also be working on his call at the toss. England succumbed to Sri Lanka after deciding to bat first in the quarter-final, but that was the right option.
Whichever team wins the toss and bats triumphs in 65 per cent of the day/night one-day matches at the ground.