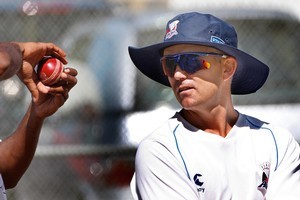 Auckland start their final home game of the Plunket Shield season today as the only team of the five out of the running for the championship.
They host Canterbury at Colin Maiden Park 14 points behind fifth-placed Otago while elsewhere seven points cover the other five teams as they engage in a battle royal for the season honours.
Auckland's woes began before Christmas in the first three rounds. After picking up both limited-overs titles in a stellar couple of months, they're running on empty with just one win to set alongside six outright losses.
The finger has to be pointed at the batsmen, who have been consistently under-performing. Their best numbers have come from Anaru Kitchen, with 534 runs at 38.14, but he's missing today with a damaged hand.
Coach Paul Strang admitted confidence among the batsmen has taken a dent.
"It's the thing you always strive for," Strang said.
"That one match-winning innings that people can build around has been missing. If you look at the whole season, another 120 runs in every game would have made a big difference."
Strang won't fault his players for effort; things just aren't working for them right now.
"They're working damn hard. Every cricketer goes through it, but we've got three or four going through it at the same stage."
By contrast Auckland's bowlers have had a decent campaign. The two Martins, seamer Chris and spinner Bruce, are in prime form. Chris Martin's taken 18 wickets in the past two games; former Northern Districts left armer Bruce Martin has 18 at 26.16 in four games since belatedly getting a call up to the squad.
Canterbury squeezed two points out of their badly rain-hit game against Otago at Rangiora last week and will have half an eye on the two games lower down the island this week.
Northern Districts have an unchanged 12 for their game against Otago at Seddon Park. They sit two points off leaders Central Districts. They were unable to get on top of CD in their clash at Napier last week with rain washing out all but 8.2 overs.
Otago have the season's leading wicket taker, Neil Wagner, back for a game they must win to stay in the frame going into the final round next week. Ditto Wellington when they host CD at the Basin Reserve.
Points: ND 29, CD 27, Wellington and Canterbury 25, Otago 22, Auckland 8.