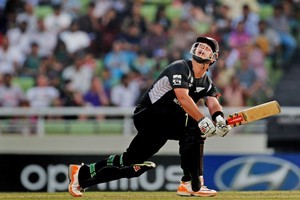 Inventor Thomas Edison once said genius is 1 per cent inspiration, 99 per cent perspiration.
Appropriately he also invented the light bulb and that is what went on for the New Zealand cricketers yesterday morning against South Africa.
It was a lesson in resistance. The Black Caps have faced bulk criticism for inept performances of late. Last year's 11 straight one-day losses on the subcontinent have tainted them for some time.
Now the World Cup class of 2011 have done their predecessors and fans proud with a 49-run victory over another tournament favourite. It is the sixth time New Zealand have made the last four in 10 World Cups.
The team's perspiration came earlier in the week. They trained relentlessly in the Dhaka heat on Wednesday and Thursday after a Monday fitness session had melted them in the furnace of Mumbai.
The inspiration came in countless ways last night, making Edison's 1 per cent rule an understatement.
Fielding was again the base on which the performance was built. Few places on any ground are safe to run ones and twos when the New Zealanders are marauding.
The dismissals of South Africa's top four batsmen each produced a stunning piece of cricket. Hashim Amla's dismissal was bizarre but fortuitous - a cut shot lobbing up off Brendon McCullum's boot to captain Daniel Vettori at slip (apparently his fifth catch in nine attempts in the cordon over a lifetime).
The other three efforts changed the game. Substitute fielder Jamie How dived after a flash outside off from Graeme Smith at backward point, Jacob Oram sparked the middle order collapse when he ran to take a miscued Jacques Kallis pull shot to deep midwicket and Martin Guptill ran out AB de Villiers when Faf du Plessis squirted a delivery to mid-wicket and dashed.
New Zealand pressure saw South Africa lose six wickets for 38 in 13.3 overs after cruising at 108 for two in the 25th. A weakened bowling attack thrived without the injured Kyle Mills, knowing fielders would protect them.
No Black Cap had an economy rate of worse than five an over. Nathan McCullum took two of his three wickets for just nine runs in his final seven overs. Oram added to his two catches with four for 39 from nine.
Vettori opted to open with two spinners to take the pace off the ball and aid early reverse swing for the first change pace bowlers - just the fourth time such a plan had been hatched in one-day internationals. It worked.
"About over nine or 11 the ball started [to reverse]," Oram said. "If we were playing in New Zealand, people would think you had sandpaper out there. But considering the block and the nature of the wicket, it's a skill you need and [bowling coach] Allan Donald has to take a lot of credit."
The batting provided the initial impetus. It has been hard to know what constitutes a good score in Dhaka this tournament. India got 370 for four and South Africa 284 for eight, both against Bangladesh. In turn the hosts were dismissed for 58 and 78 at various times.
New Zealand produced what seemed a barely competitive 221 for eight; probably 15-20 runs short of exerting relentless pressure from the start with the ball.
Jesse Ryder (83) applied himself to get his first half century of the tournament. Cramp meant he sat out the entire South African innings, replaced by How. Ryder's partnership with Ross Taylor (43) gave the New Zealand innings substance, even if neither exhibited much swashbuckling.
Their 114 runs for the third wicket after coming together at 16 for two gave the game - and the New Zealand innings - a defining moment. It was the first time in eight attempts the pair had made more than 49 batting together.
New Zealand was 139 for three at the end of 35 overs, meeting coach Wright's well-documented but simple batting plan. They were 141 for four against Pakistan at that same stage before going on to win.
Vettori was pleased senior players stepped up to command respect: "We haven't always endeared ourselves to the fans of late with our performances."
"We are our own worst enemies," Oram added. "We should play like this more often than not. We have the skill and talent. Unfortunately it doesn't come out often enough.
"We know a lot of people don't rate us. It's not just the public and media; it's the cricket fraternity around the world."
Vettori said this match vindicated their efforts: "Guys are stepping up and performing their roles. Wrighty's been a huge influence on that, keeping it simple. I've enjoyed working with him immensely. He hammers it home each meeting, each training. He's taken a huge workload off me and been great for the guys."
Such performances against the likes of Pakistan and South Africa this tournament need to be brought to bear again when New Zealand play Sri Lanka or England in Colombo on Tuesday.
Winning the toss might help too. In Dhaka, only five teams batting first had won the 20 day/night matches before last night. In Colombo that figure ramps up to 66 per cent in 70 completed matches. If you bat first, you win 64 per cent of the time. That is something for Vettori to bear in mind.