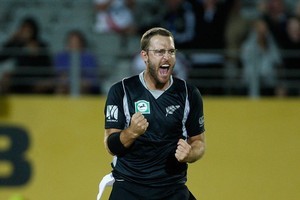 Other Black Caps may have shone with bat and ball but captain Daniel Vettori galvanised the team with innovative tactics and composure in the quarter-final win over South Africa.
While there is speculation Vettori may be asked to continue as test captain by the upper levels of New Zealand Cricket, the victory has given his reign as one-day skipper a historical seal of approval.
He joins Glenn Turner, Mark Burgess, Martin Crowe and Stephen Fleming as men who have led New Zealand into the final four. Not even Geoff Howarth can make that claim.
There must be welcome relief in his achievement. Vettori has faced months of upheaval, with the devastating series of losses on the sub-continent followed by John Wright being thrust into the head coach role late last year. The skipper's tournament was then threatened when he injured his knee in the win over Pakistan.
On the evidence of yesterday's triumph, things are starting to gel again. Vettori attacked more than has been evident in the past. He worked his bowlers in tight spells and opened with two spinners; himself and Nathan McCullum.
It is just the fourth time this has happened in one-day internationals and the first at this World Cup. The idea was to speed up the process of reverse swing so the ball would rough up quicker with more bat on ball and the pace bowlers could utilise it in the middle overs.
South Africa's top-order was restricted in the initial power plays as a result, as players who are used to the ball normally coming on to the bat at speed.
"Wrighty and I decided on that yesterday. We thought, 'why not?' It gave Tim and Jacob that opportunity to reverse swing later in the innings rather than exposing them to batsmen who like the ball coming on."
Vettori persisted with Kane Williamson at six when the fourth wicket fell in the 38th over, rather than going for a bigger hitter.
Williamson rewarded his instinct with 38 runs off 41 balls.
"At the 40- over mark, we would have sent someone in [a bigger hitter] but we lost a wicket in the 38th and Kane went in and played his natural game. He ran hard and found gaps. He is going to be a wonderful asset if he keeps playing that way."
At various stages a leg slip was used and also a silly point as the Black Caps drilled into the South African lower order.
"Leg slip was easy because I had to hide myself in the field," Vettori joked. "We simply knew we had to take wickets because if we found a way to number six, we'd have a chance. Tactics are all well and good but it is up to players to deliver.
"No-one really gave us a chance today, but all our plans came through. We handled the pressure exceptionally well."
It is also worth noting Vettori was at least a couple of cricket pitches ahead of his jubilant team-mates when it came to shaking hands with the vanquished opposition as they stumbled out of the dressing room.
It was a mark of character.