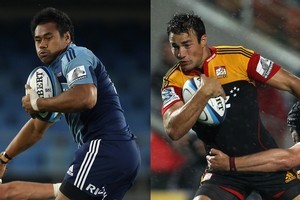 REBELS v HURRICANES
Melbourne, tonight 9.40pm
Referee: Jaco Peyper
TIPS:
Mike Greenaway: Hurricanes
Dylan Cleaver: Hurricanes
Andrew Slack: Hurricanes
Rachel Glucina: Hurricanes
Wynne Gray: Hurricanes
THE MATCH: The Rebels have been written off as no-hopers before,
most notably when they were chewed up and spat out 0-43 by the Waratahs in round one. They returned the next week to shock the Brumbies. So perhaps their 3-53 hammering at the hands of the Reds last week is an ominous sign for the visiting Hurricanes. It shouldn't be. If the Canes play to even half their potential, something they have managed only rarely this season, they should have too much firepower.
WATCH OUT FOR:
Ma'a Nonu and Conrad Smith to take more control. The Hurricanes MO at present is based around the pick-and-go, which seems a waste of the talent at their disposal outside a pair of inexperienced halves.
TAB
Rebels $4.50 Hurricanes $1.17
REDS v CHEETAHS
Brisbane, tomorrow 5.40pm
Referee: Keith Brown
TIPS:
Mike Greenaway: Reds
Dylan Cleaver: Reds
Andrew Slack: Reds
Rachel Glucina: Reds
Wynne Gray: Reds
THE MATCH: There's a little bit of trepidation when it comes to writing off the Cheetahs after last week's ridiculous result against the Waratahs, but... surely they can't do it again. Can they? The Reds were slow out of the blocks but look the form team across the Tasman now. They should be too strong at home, but the Cheetahs look a different beast now Heinrich Brussow is back on the park.
WATCH OUT FOR: A lack of bold predictions when it comes to the Cheetahs. That and Aussie Mike Harris. You do have to question, with the dearth of quality first fives in the region, why he wasn't given a little more encouragement from the Blues.
TAB
Reds $1.20
Cheetahs $4.25
CHIEFS v BLUES
Hamilton, tomorrow
7.35pm
Referee: Ian Smith
TIPS:
Mike Greenaway: Blues
Dylan Cleaver: Chiefs
Andrew Slack: Blues
Rachel Glucina: Blues
Wynne Gray: Blues
THE MATCH: It's not the match of the round, it can't be when the Crusaders and Sharks are breaking new ground in London, but it is an
important clash nonetheless. The Chiefs need it more than the Blues. They have the Waratahs away next week before a bye, and that break will seem like a lifetime if they don't get something out of the next fortnight. The Blues were not quite as good against the Hurricanes as 41-17 suggests, but they are looking in better shape at this stage of the tournament than they have in years.
WATCH OUT FOR: Transverse processes. This little known part of the body thrusts itself into prominence every time the Chiefs have played in Hamilton this year. The Chiefs can not afford another medium- to long-term injury.
TAB
Chiefs $2.05 Blues $1.70
BRUMBIES v WARATAHS
Canberra, tomorrow
9.40pm
Referee: Marius
Jonker
TIPS:
Mike Greenaway: Waratahs
Dylan Cleaver: Waratahs
Andrew Slack: Waratahs
Rachel Glucina: Waratahs
Wynne Gray: Waratahs
THE MATCH: The Australian conference looks truly wretched with
their teams winning just eight of the 21 matches they played in the first five rounds, with six of those wins coming in derbies. In simpler terms, only the Brumbies (v the Chiefs) and Force (v the Lions) have beaten teams from outside their borders, though by the time this match kicks off, the Reds should have accounted for the Cheetahs and the Rebels may have upset the Hurricanes. What we're really getting at here, and apologies for taking so long to come to this point, is what we have here is two suddenly average teams playing to restore credibility and confidence.
WATCH OUT FOR:
"They are a team that can respond," said Waratahs coach Chris Hickey.
That's what we'll look out for then, a response.
TAB
Brumbies $1.95 Waratahs $1.80
STORMERS v FORCE
Cape Town, Sunday, 2am
Referee: Pro Legoete
TIPS:
Mike Greenaway: Stormers
Dylan Cleaver: Stormers
Andrew Slack: Stormers
Rachel Glucina: Stormers
Wynne Gray: Stormers
THE MATCH: Not a match that will light many candles. The Stormers might be the only unbeaten team in the competition but they're hardly the most exciting, crossing the line just twice in four matches. The Force are one of the teams it's hard to get worked up about either way. They haven't been wretched since their inception, but they haven't been very good either.
WATCH OUT FOR: A reasonably comfortable victory to the Stormers that will tell us absolutely nothing about their championship
credentials. Moving on...
TAB
Stormers $1.33 Force $3.10
BULLS v LIONS
Pretoria, Sunday 4.05am
Referee: Chris Pollock
TIPS:
Mike Greenaway: Bulls
Dylan Cleaver: Bulls
Andrew Slack: Bulls
Rachel Glucina: Bulls
Wynne Gray: Bulls
THE MATCH: There is traditionally no love lost between the rivals across the Jukskei River and this has resulted in a number of epic encounters over the years. Forget the Lions' perennial cellar-dwelling status, the boys from the big city always raise their game when they face the mighty Bulls. The Bulls will probably still win this time - they normally bounce back after a defeat - but the game will be a niggly, ill-tempered one. Fourie du Preez will use this game to signal his return to pre-injury form.
WATCH OUT FOR:
Bakkies Botha. Fresh off being cleared of making a dangerous tackle in last weekend's match against the Stormers, the big bruiser will no doubt be feeling emboldened.
TAB
Bulls $1.25 Lions
$3.75

CRUSADERS v SHARKS
London, Monday 5am
Referee: Steve Walsh
TIPS:
Mike Greenaway: Crusaders
Dylan Cleaver: Crusaders
Andrew Slack: Crusaders
Rachel Glucina: Crusaders
Wynne Gray: Crusaders
THE MATCH: It's more than a game, or something like that.
Twickenham, RFU HQ; the reason for the game being there in the first place; this is not so much a match as an occasion. Still, when you boil it down to its core, it's about getting Super 15 points and you'd have to think the Crusaders have more chance of bagging them than the Sharks, who were disappointing last weekend against the Chiefs.
WATCH OUT FOR: If you're in London at least, watch for antipodeans to pour out of Church - not one that has much to do with religion, it has to be said - at Clapham Junction and on to trains heading west. There could be some tired and emotional folk heading back east to their enclaves in Shepherd's Bush.
TAB
Crusaders $1.25
Sharks $3.75