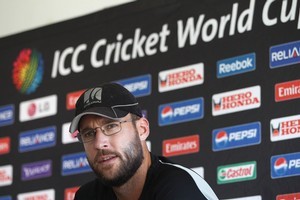 Now it gets serious. Kenya's game against Zimbabwe last night signalled the departure of the lesser nations at the World Cup.
It was certainly serious for them. As things stand it is likely to be the last cup game for at least some of them because the International Cricket Council has taken too sharp a knife to the format for 2015 in Australasia.
The quarter-finals start on Wednesday.
Exactly who plays who, and where, won't be known until this morning, the final shakedown dependent on the result of India's final game against the West Indies overnight.
What is known is that New Zealand must play South Africa, because they finished as fourth qualifiers from group A, and South African won the B group.
It should be a simple business. A schedule is out which has 1 v 4 and 2 v 3 on a crossover basis with dates and venues - two in Mirpur, just outside Dhaka, one in Ahmedabad and one in Colombo - inked in.
But there are catches.
The deal stitched up by the joint hosts, India and Sri Lanka (third hosts Bangladesh are out of the tournament), is that India must play their quarter-final in Ahmedabad, irrespective of where they finish; Sri Lanka must play in Colombo, unless they draw India.
So the schedule is a joke.
South Africa and New Zealand is the perfect matchup for the hosts.
They can be shipped off to Bangladesh, to fill one of the Mirpur dates and not interfere with best-laid (Indian and Sri Lankan) plans.
The latest information is that if India beat the West Indies early today, New Zealand and South Africa square off in Mirpur on Friday; a Windies win sends them to Colombo on Saturday.
So New Zealand and South Africa, whom the draw had playing in Colombo on Saturday weeks before this marathon began, spent yesterday twiddling their thumbs, their destination unclear. What is clear is who will start favourites when they do pitch up.
South Africa dashed slim Bangladeshi hopes of making the last eight with a crushing win on Saturday, and will start the warmest of favourites.
New Zealand are struggling with injury worries - captain Dan Vettori and senior seamer Kyle Mills are quietly optimistic of starting this week, young fast-medium bowler Hamish Bennett has a damaged calf - and still incapable of putting together two decent halves in one day of cricket.
The bowling against Sri Lanka in their final group game was generally tidy, with Tim Southee and Jacob Oram outstanding early on; and they were backed by inspired fielding.
Unfortunately New Zealand's tendency to look as if someone's tossing a Rubik's Cube at them instead of a ball when confronted by good-quality spin returned with a vengeance.
Muttiah Muralitharan and Ajantha Mendis had a feast, taking six for 49 from 14 overs between them.
Next up it's orthodox left-arm spinner Robin Peterson, who has had a good tournament with 14 wickets at 13.5 apiece, and the exotic, exuberant legspinner Imran Tahir (12 at a Warne-like 9.83 each).
Pakistan's thrilling win over Australia to end their unbeaten cup run at 34 games, did throw a spanner in India's careful plans for a march to the final on April 2.
It's meant India must play either Sri Lanka or Australia in their quarter-final, naturally in Ahmedabad.
Both will be formidable opponents - one because they have serious weapons to win the tournament, the other because of a well-honed rage against losing their grip on the world crown.