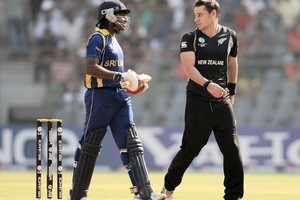 Sometimes New Zealand's cricketers require an event to galvanise them into a fighting unit. Other times, such as after Nathan McCullum's disallowed catch in Friday night's loss to Sri Lanka, they need to temper any understandable fury.
In 1981 they lost a one-day international to Australia as a result of Trevor Chappell's underarm delivery off the last ball to prevent a six to tie. It has stirred transtasman contests since.
In 1985, Lance Cairns was sconed (sans helmet) from short-pitched Wasim Akram bowling in a test against Pakistan at Carisbrook. Jeremy Coney and Ewen Chatfield consequently made 50 for the final wicket to win the test.
In 2008, England captain Paul Collingwood would not reverse a run out appeal on Grant Elliott after he clashed with bowler Ryan Sidebottom and fell during a short single.
New Zealand won and Collingwood was snubbed at the dressing room door until he apologised post-match.
The theme of those incidents is that the spirit of cricket was transgressed and it inspired New Zealand to fine feats. There was no such luck on Friday at Wankhede Stadium against Sri Lanka. Mahela Jayawardene questioned the veracity of McCullum's caught-and-bowled in the 24th over with Sri Lanka 87 for two. McCullum's dive to short midwicket after his follow-through was a determined effort and he came up with the ball clasped in his thumb, middle and forefingers.
But Jayawardene stood his ground and kept his innings alive. He was given the benefit of the doubt by the third umpire, despite what seemed evidence to the contrary.
McCullum's disappointment was palpable and he had firm words with Jayawardene and umpire Asad Rauf. His team-mates expressed similar feelings.
Jayawardene could have taken McCullum's word, as is common practice, but he exercised his options and emerged triumphant. He put on 40 more runs to finish with 66 and Sri Lanka had a 145-run partnership for the third wicket which represented the winning of the match.
Initially the decision seemed to do New Zealand a favour.
The Black Caps fielded ferociously and bowled in a tight channel which gave the Sri Lankans limited room to do much more than work the ball for singles. Up until the 35th over, they scored at a run rate just above four and had not hit two boundaries in the same over.
But the frustration whittled away, culminating in Brendon McCullum edging a ball to Jayawardene in the slips and having the third umpire agree he had taken the catch cleanly.
Intriguingly McCullum will play under Jayawardene's captaincy as part of the new Kochi Indian Premier League franchise.
With one more shot at staying in the tournament, New Zealand must heed this lesson. Their aggression needs to be channelled after the initial anger wears off.