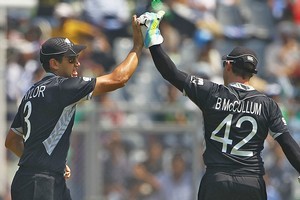 Even though the match against Sri Lanka on Friday night is not a must win for the Black Caps, it's clearly the side's most important of the World Cup so far.
A win over another sub-continent team on their own conditions would give New Zealand a huge jolt of confidence heading into the quarterfinals.
Lose and they're on the back foot once again.
Going into the big part of the tournament you want to have as much confidence as you can, which of course comes with winning.
The final group game also gives the Black Caps one final chance to get everything right as best they can. Because after this game it's then one poor game and it's over.
That's the tough thing about any sport when you get to the knockout stage. One poor performance or even just one mistake and you're heading home.
So self belief is vital and can give you that edge in those close encounters.
The side have looked the goods in the past two weeks but the constant injuries are a worry.
At this stage of the tournament it would he a huge blow to lose Kyle Mills. His ability to swing the ball in India and his experience can't really be replaced.
This final group game will also be vital for the returning Daniel Vettori. He'll be a little bit ginger on his knee as he'll be aware of it. Those little things do play on your mind.
The side have got to look at the positive side of it these recent injuries as it may give someone else an opportunity to step up at a World Cup and make a name for themselves.
At the moment the likes of Ross Taylor and Brendon McCullum have done just that but there may come a time when a Scott Styris or James Franklin might be called on to save a match from the middle order.
As a player you'd be lying if you said you weren't keeping an eye on other results and looking at who you may be coming up against in the next round. Over there you don't want to come up against the likes of India in their own back yard but it's just another thing that's out of their hands.
They'll keep an eye on it but you've just got to do all you can and that is winning their next game against Sri Lanka.
I just wanted to add a word about the 'Fill the Basin' match on Sunday which was an awesome experience to be a part of.
To pull something together in that short of notice and to get such a great crowd who created an amazing atmosphere and support with the donations was just unbelievable and quite humbling. It was great to see the city of Wellington throw their support behind Christchurch.
What made it so good was that there was a good array of personalities there. Obviously there was the cricketers but you had the few rugby players and movie stars. There was something there for everyone which made it an even better event.
- Former Black Cap Nathan Astle was talking to nzherald sports editor Cameron McMillan