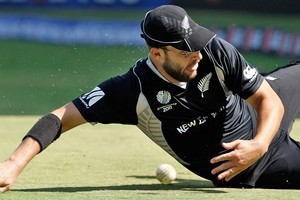 Black Caps captain Daniel Vettori will see a specialist in Mumbai tonight to determine the extent of his knee injury.
Vettori's right knee dug into the ground while attempting to take a catch during the win against Pakistan in Sri Lanka.
Treatment was administered at the ground and his knee has been rested overnight.
Jesse Ryder who missed the match with a stomach bug is recovering well and expected to be fit for the next match against Canada on Sunday.
- NEWSTALK ZB