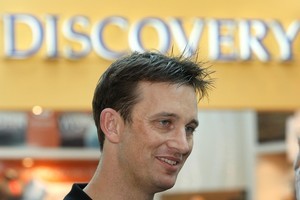 Shane Bond attempts to relax at the end of each day of the World Cup by heading for a couple of beers at the open air nightclub on the 34th floor of his hotel in Mumbai. But it can be a futile exercise.
The former Black Caps fast bowler is haunted by the images of his home town Christchurch.
He is torn between severing his contract with the Power Play show on the Indian television network Times Now or battling on while his wife Tracey looks after their three children - Katie, Hayley and Ryan - in the aftermath of the February 22 earthquake.
Bond has reluctantly opted to stay. As a consequence, his face is beamed into millions of Indian households daily, discussing the world's premier cricket tournament.
The 35-year-old admits it was difficult. "Fortunately, my family are fine. We live in the north west so weren't affected badly. We didn't even lose water or power.
"But there is a numb feeling - a helplessness being here in Mumbai. Tracey is strong and she would tell me to come home if I was needed.
I also try to speak to my mum and sister every day.
"My kids were at school and got a hell of a fright when it happened. I'm also lucky Tracey's parents are staying. That is a big help. They've given their house to friends who have lost theirs. This quake just seems to have done tenfold the damage compared to the last one."
Bond says the disaster has vindicated his decision to get on Facebook.
"I only did it because I thought it could fill in the downtime but it's been a great way to make sure friends and family are all right.
"It's unbelievable knowing so many people who know other people who died.
"I'm amazed at how the recovery has got into gear so quickly. All I can think of is how fortunate I am when so many people are facing tough, uncertain times."
The Times Now network does not have television rights to the World Cup. Bond says that means they are restricted to 15 seconds of footage or less at a time and no more than two minutes of action a day. But he is enjoying the experience, working with cricket luminaries such as Barry Richards, Sanath Jayasuriya, Arun Lal and Graeme Hick.
"I'm generally rostered on for two sessions a day. It's relaxed. We discuss a few issues and the banter seems to come naturally.
"It's also been weird doing promos staring down the lens of a camera and saying what's coming up. Even though it's going out to millions of people, it's made that little bit easier knowing your mates aren't likely to be watching like they would be at home."
Topics strongly debated included umpire Brent Bowden's decision not to dismiss England batsman Ian Bell LBW against India and if cricket is still affordable for the average Indian.
Bond appreciates the freedom compared to the strict security for players.
"I often head out with a mate of mine who lives here. You see a different side to Indian life when you can wander the streets or have a coffee at the mall."
His new-found fame means he is recognised but hasn't been mobbed.
"You're asked for photos quite a bit and face the odd stare down but it's pretty good. Indians generally host foreigners well.
"As a player, it's a fair bit different. You can end up stir crazy in your hotel room."