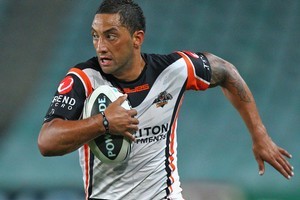 Benji Marshall is fully aware of the "curse" that comes with being the face of the NRL, but is adamant he'll stay the player every kid wants to be.
In the week Dally M medallist Todd Carney's involvement in the NRL's season launch was scaled back, New Zealand Test captain Marshall conceded being rugby league's pin-up boy had a checkered history.
Manly's Brett Stewart caused the game's flagship television commercial to be re-edited when he was banned after an alcohol-fuelled evening and charged with sexual assault ahead of the 2009 season.
Stewart was eventually cleared of the charge.
But off-field dramas are something the clean-cut Marshall, who was chosen to launch the 2011 season in the NRL's heartland of western Sydney on Wednesday, is determined to avoid.
"After the past couple of years it was sort of a curse they reckon," he told reporters at the Casula Powerhouse.
"It's not going to change what I do away from the game or what I do in the game.
"I want to be the player that kids want to be when they grow up.
"I've had a pretty clean image and I want to keep it that way.
"I'm pretty wary of where I am and what I do to make sure I keep the same image because I know image goes a long way in life and at the end of my career I want to still have that image."
Instead of playing a part at the launch, Carney was preparing to meet NRL boss David Gallop about his future.
"It was a relatively minor adjustment to what we were doing but we certainly think it was the right decision for him and for everyone else," Gallop said.
Marshall said he felt for the Sydney Roosters star.
"It's a tough call because Todd's a young guy and I'm a young guy and you want to hang out with guys your age and do what they're doing, but we're key figures in this game and role models of the game," Marshall said.
"It's hard to take I know and, to tell you the truth, we hate the fact that we have to change the way we are."
The launch continued the NRL's assault on the AFL's expansion into western Sydney, the pointed message there in rock supergroup Bon Jovi's song This Is Our House blaring from the league's new television commercial.
Marshall was also singing in tune, firing back at the Giants' signing of ex-NRL star Israel Folau.
"It's good to see the NRL hitting back and fighting back," the Wests Tigers' five-eighth said.
"There's so many more Polynesians playing rugby league than there is one playing AFL, so you tell me who the Polynesians are going to follow."
The league will be hoping for a season devoid of a salary cap scandal similar to the one that rubbed Melbourne out of the 2010 premiership.
Marshall had earlier delivered a speech he wrote himself which was strong on passion and the players' concerns for the recent disasters in Christchurch, Queensland and Victoria.
He revealed he had been the star of the debating team at Keebra Park High School in Southport.
"When I was at high school I was probably the best at speeches that I knew," he said.
- AAP