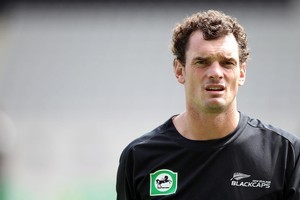 For those tragics determined to endure the long road to the sharp end of cricket's World Cup, the next few nights promise to be particularly daunting.
If you want to see it through, this might be a case not so much of strapping yourself into your favourite couch - which leaves open the option of undoing the straps if it all gets too much - but being lassoed to the seat each night with eyes held open by matchsticks.
Here's the schedule from tonight until New Zealand play Zimbabwe in Ahmedabad on Friday night:
Canada vs Zimbabwe followed by the Netherlands vs West Indies tonight; Sri Lanka vs Kenya tomorrow night; England vs Ireland on Wednesday; the Netherlands (once more into the breach on two days' rest) vs South Africa and Canada vs Pakistan on Thursday.
(On a side issue, who have the Dutch upset to be given two games in four days with travel in between, in this tournament where a week off is de rigeur for the top teams?)
This is a programme to test the most resilient of cricket fans. Six games spread over four days, and none a fair dinkum major vs major scrap, seems about two too few, so go the Irish and the Dutch to inject some fun into the week.
New Zealand travelled to Ahmedabad last night, where they will twiddle their thumbs for four days before playing Zimbabwe.
On the plus side, it will give them plenty of time to reflect on another poor outing against Australia on Friday night, a match in which New Zealand fielded a curious combination.
Why Kyle Mills, with loads of experience not to mention a decent ODI record, was not preferred to the rookie Hamish Bennett, only captain Dan Vettori and coach John Wright know.
Batting Jamie How, who has always been a top-four player, at No 7 seemed peculiar, save the desire to keep the much-vaunted McCullum-Guptill-Ryder-Taylor axis intact; leaving Jacob Oram out, removing one of their better bowling options, was also a head-scratcher.
Against Kenya, Canada or Zimbabwe okay, but Australia should have demanded the oldest, wisest heads.
All were fit. It might not have altered the result but would have ruled out the questions over selection as experience should have been the dominant factor in the selection.
Still, there have been some interesting developments, not the least coming from Pakistan.
There are a couple of ways to make the most of an innings with the bat. One is to have someone in the top three hit a century, preferably north of 130, and have the others bat around him.
Virendar Sehwag leaps to mind with his opening night flogging of Bangladesh, although he had terrific support from the fast-rising Virat Kohli with a brisk ton of his own.
The other is with a cumulative contribution. Pakistan's 317 for seven against Kenya had four batsmen make half centuries, in positions No 3, 4, 5 and 6.
In the fine win over Sri Lanka early yesterday, their two old-stagers, Younis Khan and Misbah-ul-Haq, again filled their boots at No 4 and 5 with 72 and 83 not out respectively at a tick under run-a-ball rate.
They hit 10 boundaries between them - not a lot, but compensated with a pile of singles. Pakistan finished up with 277 for seven and won by 11 runs.
It was smart batting and showed that crash and bash is not always the best policy. Zimbabwe could give New Zealand the chance to explore other ways to skin the batting cat.