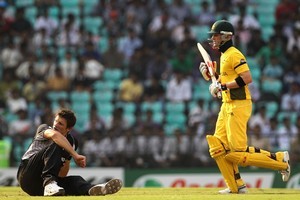 The last time a New Zealand cricket team faced adversity after a natural disaster was Boxing Day 1953 in Johannesburg - after the Tangiwai disaster where 151 people lost their lives, including the fiancee of test cricketer Bob Blair.
A distraught Blair remained at the team hotel and was not expected to play against South Africa. New Zealanders, including the great Bert Sutcliffe, were being poleaxed on a quick pitch by fiery bowling. When the ninth New Zealand wicket fell at 154, all the players began to leave the field.
But the crowd was hushed when the lone figure of Blair emerged from the tunnel and was greeted by Sutcliffe, with a bloodied bandage about his head after being hit.
He placed a comforting arm around Blair's shoulder. New Zealand cricket scribe Dick Brittenden described the circumstances where a stricken but defiant Blair and Sutcliffe blasted pugnacious runs as "a story every New Zealand boy should learn at his mother's knee".
New Zealand lost that test but won many friends because of their courage. Nagpur 2011 post-earthquake won't be remembered with the same level of gravitas, if it's remembered at all.
The Black Caps' seven-wicket defeat against a rampant Australia, also with tearaway quick bowlers, began with the selection of the team - a negative-minded hedge against defeat.
Selecting an opener, Jamie How, to bat seven in case the Australian quicks got among the Black Caps is a bit like going for a dip at the beach in a suit of armour - you won't get sunburnt but your prime objective (having a cooling swim) is in trouble.
The mindset that the Australian fast bowlers might be a bit troublesome seemed to overwhelm the Black Caps' principal objective of winning.
Having allowed the danger of the pacemen to enter their subconscious, they then set about proving that the threat was all too real. Those are not the thoughts on which World Cup dreams are built.
Too many went out to wafts outside the off stump as they plunged to a seven-wicket defeat after making a substandard 206 on a pitch which has realised an average of 316 runs per first innings before this match.
It is not the end of the Black Caps - the World Cup format is too friendly for that - and they can still claim a place near the top table with good results and possibly even a win against Pakistan and/or Sri Lanka.
But, on the evidence of Nagpur, those are fond hopes indeed.
The tweaking and twiddling of selections was supposed to stop once the touring team left New Zealand and coach John Wright and captain Daniel Vettori took over those reins.
To make it clear: Kyle Mills and Jacob Oram, two of our most experienced one-day cricketers, were fit to play. Instead they donned red butler vests and administered drinks.
Captain Daniel Vettori admitted the How decision was an insurance policy: "We wanted to strengthen our batting because we knew Australia would come at us with pace. We thought it would be nice to have a guy who can play pace well particularly around that second 'new' ball [after 35 overs]. It didn't work."
Surely Oram could have been just as effective late in the innings; especially seeing he has chipped in valuable overs with the ball of late as well. The decision also meant the contribution of Vettori as an attacking batsman was all but lost coming in at nine.
The three-time defending champions grew in confidence, retaining the Chappell-Hadlee Trophy on the way. New Zealand were left to reflect on the chasm between their current level of performance and what is required to win a World Cup.
THE NEW Zealand bowling attack, with so few runs to defend, was hammered. Balls were regularly sprayed down the legside; overpitched or dropped too short. There were 29 runs from wides.
"Good teams put pressure on you and unless you repel that pressure, things like this happen," Vettori said. "Shane Watson and Brad Haddin played so well and so aggressively - hitting our guys off their lines [on their way to 133 for the first wicket off 18.1 overs] - that they couldn't get any accuracy."
Hamish Bennett inhaled a stiff dose of reality after taking four cheap wickets against Kenya. He took two wickets against Australia but conceded 63 runs in seven overs, including seven wides. The decision to choose him ahead of Mills - who has admittedly not been right back at his best yet - looks questionable now.
World Cup selection hunches now need to be set aside. That means dropping How, bringing back Mills and possibly replacing Bennett with Oram to give the side hope through consistent selection and performance. Wright confirmed Mills will return to the side for the match against Zimbabwe this Friday.
Aside from basic selection issues, if New Zealand are to extend beyond their expected quarter-final status, the top and middle order batting needs the most attention.
Of the top six batsmen, only Ryder showed promise and flair, dispatching the Australian attack for six boundaries in his 25 off 31 balls but, as happens too often, he threw his wicket away. The rest left an undisciplined void. New Zealand's innings collapsed to 73 for six - at which point four wickets had been lost for seven runs. Survival was the only option.
Footwork was the core missing ingredient in the dismissals of Ryder, Ross Taylor, James Franklin and Scott Styris - the latter pair making ducks. Taylor played across the line to be bowled while the other three flashed the bat outside off stump to present regulation wicketkeeper catches.
Had Nathan McCullum (52) and Daniel Vettori (44) not combined for the only half-century partnership of the innings - 54 for the eighth wicket - the result would have been a quick death rather than prolonged suffering.
"It wasn't a good performance," Wright said. "It started with the bat. You've got to get to the 35-over mark with a maximum of three down [the Black Caps were 144 for seven]. Then you can best utilise the power play. If we'd had wickets left we should have been able to get to a competitive 280 or 300."
WRIGHT ADMITTED he's struggling to deliver his message to the batsmen as the new coach.
"On the basis of this performance you'd think so. It's about application and wanting to be at the wicket. I don't tell them how to play, they're all different.
"Australia is predominantly a pace attack; if they don't get early wickets, they struggle as the ball gets old quickly here [on India's abrasive surfaces]. If you want to face pace bowling, India's a good place to do it."
Australia's pace attack deserved credit. Brett Lee, Shaun Tait and Mitchell Johnson took eight wickets between them. Lee and Johnson demonstrated parsimony and penetration to keep the Black Caps guessing while Tait was fast and occasionally sublime in running up four wides, two no balls and three wickets.
Part of the New Zealand effort could be blamed on a team distraught at what is happening in Christchurch. A 'Kia Kaha Chch' banner was even slipped over the ledge on one of the stands but removed by the start of the run chase.
Sensibly, however, the Black Caps did not use the earthquake as an excuse.
The Australians have faced similar misfortune in the last few months with cyclone, flood and bushfire damage. The countrymen of numerous other teams in this tournament also face life-threatening hardship on a daily basis.
Vettori was adamant the devastating events played little part in their capitulation: "It would be unfair to people who are going through worse than we are to say that was the reason we didn't pay well. We are professional sportsmen."
Wright, who lives on farmland to the north of Canterbury, backed his skipper: "It's been unsettling and I haven't experienced such a tragedy while overseas. We just wanted to put on a performance for New Zealanders who are hurting; but that wasn't what they needed to see."
The match gave the paltry Nagpur crowd an insight into Anzac camaraderie. The players lined up in black armbands for a minute's silence before the match. The teams did the same before the second innings; this time huddling in a circle.
Australian captain Ricky Ponting said the least they could do was demonstrate some mateship.
"We wanted to do whatever we could to pay our respects. The New Zealanders are neighbours; almost like brothers. Hopefully the cricket took some people's minds off what's happened."
Maybe it did. For Kiwi fans, the cricket was a bit of a disaster in itself.
Maybe it's too much to compare it to the Tangiwai disaster and the bravery of Blair. But the spirit of 1953 wasn't much in evidence 58 years later.