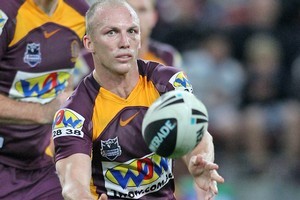 Darren Lockyer has rejected claims a reported falling out with Ivan Henjak played a key part in Brisbane's decision to axe their rugby league coach this week.
Henjak vetoed Lockyer's plea to let him return from a bad rib injury to play against Canberra last September when Brisbane need to win to have a shot at making the NRL finals.
But Lockyer said on Tuesday the pair had not fallen out over their disagreement.
"That's not true," said Lockyer after Anthony Griffin made his first appearance in the role of head coach at the club's Red Hill headquarters.
"I know there are some rumours going around that I had a falling out with Ivan but that wasn't the case.
"We had a good relationship but at times last year when we were going through a pretty bad trot I think everyone was down a bit.
"But Ivan and I had a good relationship and there was never a falling out."
Lockyer said he and the players were caught by surprise by the Henjak bombshell late on Monday.
"It all happened so quickly and yeah, it was a bit of surprise.
"But a decisions been made we need to move on with things."
Asked if he thought it was unusual situation for a coach to be dropped before a team had played a game he said: ``At the Broncos it's not a regular thing.
"I'm not used to it but we can't change the decision, it's been made.
"Broncos fans may be a little bit worried now, but we as players just have to deal with it and let them know we're behind the new coach."
Griffin meanwhile said he believed his budding NRL coaching career could be shaped during the next three months with all eyes on his performances.
"I know the coaching game. I'm ready to coach, I wouldn't be here if I wasn't," said the former Melbourne Storm assistant who has enjoyed good success in lower level coaching jobs.
"It is awkward. I must admit I was rattled when it happened to tell you the truth.
"The coaching game is a funny game. The media is always speculating and unfortunately there are coaches getting fired and hired every day of the week
"I'm a career coach, I've been doing it for a long time.
"I've been given an opportunity and I know how the team plays over the next 12 weeks or so, I'll live and die by that, my career.
"I understand that and I'm looking forward to it.
"This is what I've been working for as a coach all my life."
- AAP