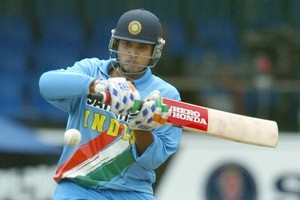 Here's a list of the top individual batting efforts in World Cup history. Perhaps the 2011 tournament in India, Sri Lanka and Bangladesh over the next month will introduce another exciting new batsman to the ranks of world cricket.
1: Saurav Ganguly
India: 183 (158 balls, 17 fours, 7 sixes) v Sri Lanka, Taunton, 1999
India needed a big win after losing to South Africa, and then Zimbabwe. Ganguly provided the base for reaching 373 for six, and setting up a 157-run win.
His hitting was too big for the small Somerset ground. With Rahul Dravid, who made 145, Ganguly shared a 318-run stand for the second wicket. It's still the highest World Cup partnership by almost 100 runs.
2: Viv Richards
West Indies: 181 (125 balls, 16 fours, 7 sixes) v Sri Lanka, Karachi, 1987
Richards arrived at the crease on a hat-trick and when he left a while later had put up the (then) highest cup score. By contrast Desmond Haynes' 105 was barely noticed. The West Indies had lost back-to-back cup games - the 1983 final, and opener against England in 1987. They still departed before the semifinals, but Richards had made his last great mark on the tournament.
3: Matthew Hayden
Australia: 158 (143 balls, 14 fours, 4 sixes) v West Indies, North Sound, 2007
Hayden was scoreless off his first 18 deliveries and anchored an innings in which the pace came from Ricky Ponting, Michael Clarke and Shane Watson. His 50 took 72 balls, and it was not until the closing overs that the burly lefthander rolled his sleeves up.
4: Adam Gilchrist
Australia: 149 (104 balls, 13 fours, 8 sixes) v Sri Lanka, Bridgetown, 2007
Clive Lloyd (1975), Richards (1979), Aravinda de Silva (1996), Ponting (2003) and Gilchrist (2007). It is a Who's Who list of batsmen who left their indelible mark on World Cup finals. Gilchrist, with a squash ball jammed inside a glove - clobbered the Sri Lankans all round the famous ground. It set up Australia's fourth cup triumph, and third in succession.
5: AB de Villiers
South Africa: 146 (130 balls, 12 fours, 5 sixes) v West Indies, St George's, 2007
South Africa eased into the semifinals on the back of de Villiers' rapid century. It put their surprise defeat to Bangladesh into the background. The West Indies were already out of the frame, which might take a bit of the lustre off the innings. They lost again in the last four, again to Australia.
6: Rahul Dravid
India: 145 (129 balls, 17 fours, 1 six) v Sri Lanka, Taunton, 1999
See No 1. Dravid has produced some monumental innings. This paled in comparison to Ganguly's but it was still a fine effort, scored at a decent clip.
7: Andrew Symonds
Australia: 143 not out (125 balls, 18 fours, 2 sixes) v Pakistan, Johannesburg, 2003
The defending champs were in early trouble before Symonds and Ponting pulled things round. No one was spared Symonds' blade, including Wasim Akram and Waqar Younis. It was the first of his six ODI tons, revived an ailing innings and put Australia on the road to ultimate triumph.
8: Herschelle Gibbs
South Africa: 143 (141 balls, 19 fours, 3 sixes) v New Zealand, Johannesburg, 2003
Gibbs put New Zealand to the sword, but finished up on the losing side. Four years earlier, he'd scored a century against Australia, then dropped a vital catch off Steve Waugh - "You've just dropped the World Cup mate" - and South Africa were beaten. Deja vu all over again, then. Stephen Fleming's century got New Zealand home to a fine victory.
9: Dave Houghton
Zimbabwe: 142 (137 balls, 13 fours, 6 sixes) v New Zealand, Hyderabad, 1987
Houghton all but pushed Zimbabwe to what would have been a sensational win over New Zealand. Chasing 243, the hard-hitting Houghton took New Zealand apart, and almost pulled off a victory single-handedly. He was out with the win in sight, courtesy of a brilliant catch by Martin Crowe running away from the pitch towards long on. New Zealand won by three runs.
10: Scott Styris
New Zealand: 141 (125 balls, 3 fours, 6 sixes) v Sri Lanka, Bloemfontein, 2003
New Zealand's only entry to the list, on these criteria. Styris played a lone hand as New Zealand, chasing Sri Lanka's 272 for seven, never really looked like getting there. Only Chris Cairns, with 32, provided much assistance as New Zealand limped to 225. It was the first of Styris' four ODI tons.
Note: Innings against test-playing nations only