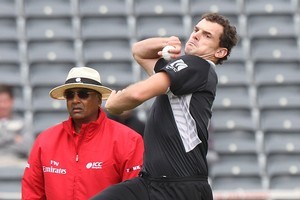 The New Zealanders' heads might be feeling as though they had just spent 15 rounds in the ring with someone possessing rather better pugilistic skills than SBW.
But they must put all that in the bin and look ahead with the World Cup a week away, according to senior bowler Kyle Mills.
New Zealand's campaign kicks off next Sunday night against Kenya in Chennai, but they will get their feet on the ground tonight with the first of two warm-up fixtures, against Ireland in Nagpur.
The teams have met twice before.
New Zealand won by 129 runs at the 2007 World Cup in Guyana, and again by 290 runs in 2008 in Scotland, as part of an associates' tri-series also involving the Scots.
That day Brendon McCullum and James Marshall put on 274 for the first wicket in what was a seriously lopsided contest.
But it's their recent record which is of more concern.
A combined 9-0 beating by Bangladesh and India gave New Zealand the sub-continental wobbles last year.
Losing the six-game series at home to Pakistan 3-2 merely added to a gloomy picture.
But Mills - who missed the last World Cup with knee surgery - remains upbeat, with that proviso on putting the bad bits out of sight, and mind.
"It hasn't been too kind to us on recent tours," Mills said of the sub-continent.
"But if you don't learn anything from losing you're never going to get anywhere.
"We've been beaten up, and you can't get any lower than we have in the last couple of months.
"But you can't really dwell on the negatives. You have to keep looking forward.
"If you go into games with your head down you're going to be beaten up from ball one."
New Zealand's players have borne the brunt of often fierce criticism during their wretched run of form.
Mills accepts that players need to take the hits on the chin when they have been performing below par.
"I love the fact our fans and supporters have such passion for cricket," he said.
"If we perform well in this World Cup, if we can climb this Mt Everest and it's going to be a massive challenge, I don't think anybody will be talking about the last three or four months."
Mills will lead New Zealand's new ball attack. His 126 ODIs have produced 186 wickets at 26.47 and he's been among the world's leading one-day performers for several seasons.
He needed to reinforce his importance to the team in the Pakistan series, and did so.
The bulk of the first choice XI is decided, fitness and health permitting.
The word out of the New Zealand camp last night was that the three players who departed on Tuesday with an injury issue - captain Dan Vettori, batsman Jesse Ryder (both hamstring twinges) and allrounder Jacob Oram (foot injury) - were to be considered in the side to play Ireland.
If that proves to be the case it's a good start. Better by far to have a fully fit squad of 15 than have worries over players and potentially having to run risks to assess their fitness.
Five warm-up games are taking place tonight. Two will be in the Sri Lankan capital Colombo - Sri Lanka against the Netherlands and New Zealand's first opponents, Kenya, against the West Indies.
Their fifth opponents, Canada, meet Bangladesh in Chittagong; while neighbours South Africa and Zimbabwe clash in Chennai.
New Zealand's other preparatory game is against joint hosts India, whom they know only too well from recent engagements, in Chennai next Wednesday.