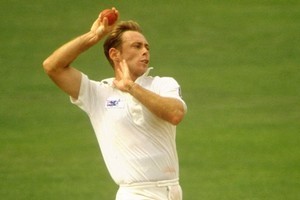 The cloistered environment of a World Cup on the subcontinent shapes as a key problem for the Black Caps in what is likely to be at least a six-week tour.
The team fear a dose of cabin fever if they spend the entire tour numbly going from airport to hotel to training field to game. A Close Protection Officer (CPO) will be employed to ensure their safety throughout. One of his tasks is to work alongside the social committee organising activities to take players' minds off cricket during excessive breaks between games.
The current itinerary means the Black Caps spend at least four days, and on one occasion an entire week, without taking the field. That is a lot of time cooped up in hotels.
Ennui descended in the Caribbean at the last World Cup and many players are conscious of avoiding that this time. At one stage it even triggered Lou Vincent to disrupt a TV interview with coach John Bracewell by streaking past in the background wearing nothing but sunglasses and a Borat mankini.
Reputable South African security firm Nicholls, Steyn and Associates (NSA) are likely to be appointed as the Black Caps' guardians. They will work with local support, including a police liaison officer at each venue.
NSA's past work has included helping 150 people evacuate the Taj Mahal hotel in Mumbai during the 2008 terror attacks. One of the firm's partners, Rory Steyn, used to be Nelson Mandela's security chief and was the All Blacks security liaison at the 1995 World Cup.
New Zealand Cricket chief executive officer Justin Vaughan knows the value of security protection and escaping boredom after getting called onto his debut Black Caps tour in 1992. Vaughan was summoned after many of the original players came home after a suicide bombing near their hotel.
"Avoiding cabin fever is really important, that's where the CPO can have a key role assessing where players can go and proactively creating a safe environment. It's like having a doctor in the ranks, they're the specialist," Vaughan says.
"Quite simply the team can't go into pure lockdown for seven to eight weeks. A week can end up seeming like a month over there. On the bomb tour in 1992, we effectively ended up under house arrest.
"I'm concerned our team will be pilloried for taking time off during those breaks, but you can't think about cricket 24/7."
The appointment of a CPO takes further responsibility away from manager Dave Currie. It leaves his role increasingly redundant, despite his recent experience on the subcontinent as New Zealand chef de mission at the Commonwealth Games. The players are under strict instruction to take non-cricket orders from the CPO first at all times.
Former Black Cap Danny Morrison says that is sound advice. As a player, Morrison was on the New Zealand tour disrupted by a bomb in Sri Lanka in 1987.
He was also in Karachi as a commentator when the 2002 bomb went off at the hotel.
"I went over to the window, read a fax from my wife Kim and then lay down on the floor between the beds to do some slow release sit-ups - the perfect way to start the day.
"Then the whole ranch slider crumpled in with the impact of the blast."
That convinced Morrison that you can never take too many precautions.
"A World Cup is a risk and, understandably, security is huge. The team will have their own bus and several armed escort buses to take them around. However, it might help to go a bit more incognito on a gnarly old bus - at least to look at from the outside. You could still put some cops and security on it - get a ninja if you have to - but just don't stand out as much as a target. It is also important the team's journey times are not synchronised to a daily plan.
"Your mind can start playing tricks on you, too, like thinking about terrorism and who might be watching or following you."