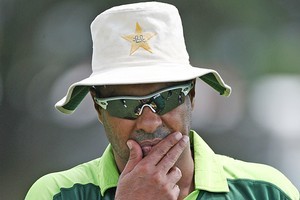 Pakistan are mulling their approach for the sixth and final one-day cricket international against New Zealand at Eden Park tomorrow.
Coach Waqar Younis is desperate to maintain their winning momentum after three straight victories but, with the series wrapped up 3-1, he is also conscious of the giving squad players some time in the middle ahead of the subcontinent-hosted one-day World Cup, which starts on February 19.
"I think it's important to keep the momentum going and finish on a winning note so that we go into the World Cup ready and pumped up," Younis said.
"The aim is to win, but I'm not really sure what we will do at the moment. We have got a couple of guys who are sitting out and haven't played a lot of cricket, so we would like to give them a chance. Maybe."
There were jubilant scenes at Hamilton last night after the tourists secured a 41-run win and the series win in what has been a top buildup for the World Cup.
Different players are contributing at different times and there is an obvious camaraderie, something Younis believes has been forged partly by the spot-fixing controversy they have faced during the past 12 months.
"The amount of controversies we've had, it's good to see guys making comebacks into the team and playing well, as well as the young guys we have had to bring through," he said.
"It has (galvanised) us, in a way you can say it put us together because waking up and reading the newspapers every day and reading the rubbish, it gives you a little togetherness."
And their chances of repeating their 1992 World Cup success?
"Why not? It would be nice. It's every team's dream and we're on the right track at the moment, so if we can deliver the similar goods during those six weeks you never know. We are positive."
- NZPA