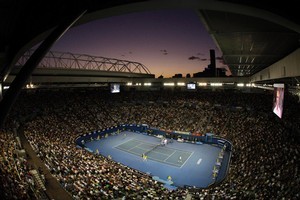 Has anyone actually studied what happens when security guards don't scowl?
Why do security guards have to look so forbidding? I'm not suggesting they should give random hugs to passing strangers, but do they have to take themselves so seriously?
Unsmiling giants - although a remarkable number of them at the Australian Open look like middle-aged out-of-work bus drivers - they stand hands crossed across their bellies and glared at the crowd at each change of ends.
It's as if they positively want someone to leap the fence and try to attack one of the players.
I'm only asking, but has anyone actually studied what happens when security guards don't scowl? Do blue-rinse matrons vault on to the playing surface, minds full of mayhem? Do young hoons who had been cowed into keeping their seats suddenly go crazy?
Just wondering.
You get the chance to muse on such important matters during breaks in play when you're at the park, because you're not being assailed by advertisements for stock clearances and wheel alignment.
And there's much to see - and admire - at the tournament on the fringes of the action.
As any sports fan knows, there's nothing quite like being there. We take it for granted now, a generation since television started taking us closer to the action than was ever possible for a ticket-holding spectator. But perverse though it sounds, in the stadium we get a wider perspective and we're reminded of the truth of the axiom that distance lends enchantment to the view.
I enjoy watching the dedication of the ball-kids who fulfil their duties according to protocols that have plainly been hammered into them until they are second nature - hands behind back at all times; roll the ball just so; show (to whom?) how many balls you're holding.
It's amazing to witness the speed with which they chase down the balls (I can only hope that someone said "Work out how fast you can run at full tilt and then dial it back a little" because I keep fearing that one of them is going to go nose-flat on the blue concrete).
Equally impressive is the motionlessness of the line judges, who stare unwaveringly straight ahead even when players pass within a metre of them (any acknowledgement of their presence - a smile, maybe, or a friendly aside about how nice that top is - would presumably open the official to a charge of partiality).
The crowd provides its share of pleasures too. The white-singleted Andy Murray brigade ("Andy Murray is a ledge [legend]") I mentioned yesterday but they were positively muted compared to the three rows of Chinese, their clothes and banners a uniform joy-luck red, who howled their way through Li Na's epic semifinal battle against No 1 seed Caroline Wozniacki on Thursday.
Li, who will be the first Chinese to step on to a Grand Slam final court when she takes on Kim Clijsters tonight, had the most doggedly vocal cheer squad of the tournament so far. I think I now know how to say "Li Na, come on!" in Mandarin, but since my previous efforts in Chinese have caused such mirth among native speakers, I'm going to keep it to myself in case I end up bellowing "Li Na, your sardine is epileptic".
As you would imagine, given the military precision of the way they run everything here, there's tight security for the top players who move everywhere with a small phalanx of (humourless, naturally) minders who seem capable of saying nothing except "Thanks, guys, stand back here please" even if nobody's trying to stand forward. But the stars' practice schedules are published daily and it's easy to find them on one of the back courts, hammering returns at their coaches or, on occasion, proud juniors who line up to act as sparring partners.
Up close and personal - you can stand only a couple of metres from courtside - you get a very different perspective on players you may have misjudged from their on-court behaviour.
Most revealing for me was Novak Djokovic, who seems fearsomely haughty and arrogant at match-time. In a practice session, he was impish, every inch the boyish 23-year-old. He spent the first 10 minutes with three helpers playing a cross-net blend of soccer and tennis (no hands), giggling and feigning horror when he lost a point.
Perhaps that lightness, along with the hard work enabled him to beat Roger Federer.
Peter Calder is an Auckland writer and tennis enthusiast.