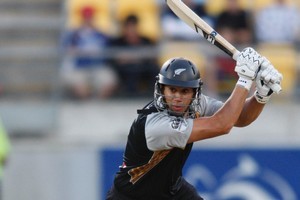 The Taylor-McCullum question will undoubtedly generate much debate post-cricket World Cup.
Ross Taylor and Brendon McCullum have both stated a desire to succeed Daniel Vettori as New Zealand captain when the champion allrounder steps aside once the subcontinent-hosted tournament ends in early-April.
But before then only Taylor will get a chance to further his case on the field.
Injuries and rotation aside, it will probably just be the one chance, but Taylor is determined to prove his worth when he takes over from a rested Vettori in the third one-day international against Pakistan here tomorrow.
"I've always enjoyed leading my country, it's probably going to be a little different still having Dan there in the sheds but I'm looking forward to it," he said today.
"It's out of my hands on who they select but in the future I would love to do the job. I think obviously being vice-captain and having the opportunity to lead the team in a few one-dayers and Twenty20s, you get a bit of a buzz and a bug for it, so hopefully I can show what I'm made of tomorrow."
Taylor, who took over from McCullum as vice-captain in 2009 for reasons which have never been clearly explained by New Zealand Cricket, has the led one-day team on six occasions.
It is tough to get a gauge from only a handful of matches and a two-win, three-loss record reveals little but, interestingly, he averages 51 with the bat from those matches, considerably higher than his career average of 35.77.
In the two matches that were won, he played influential innings of 95 and 70.
"The extra responsibility is something I enjoy," Taylor said.
"As captain you get to dictate a few things and quite often you have a captain's innings. It's something Dan does very well, he leads from the front when he captains the side. Hopefully I can take a leaf from him in that regard."
While admitting there is added pressure and responsibilty with the bat as captain, Taylor does not believe his approach with the willow should be any different.
The 26-year-old is not one to dawdle in his batting and he feels he has similar attributes as a captain.
"I don't like things to meander along," he said.
"I'm not sure of my style or the way other people look at it, but I like to be proactive in field placings and rotating the bowlers as well.
"It's always going to be a learning curve whether you've just started the job or whether you've done it for the last four or fives years. I'm sure I'll make mistakes, as long as you learn from those and don't do them again."
New Zealand will delay naming an 11 for the match until they inspect the pitch and overhead conditions tomorrow morning.
They trained this afternoon at Lincoln - after Pakistan had cancelled their scheduled morning session - and have not had a chance to have a look at the inner-city stadium pitch, which is generally a batsman's paradise but has thrown up a few low totals in recent times.
Taylor has given little away but, with the small boundaries here, there is a good chance one of the spinners - Nathan McCullum or potential debutant Luke Woodcock - will be the 12th man.
There will be a change in the opening bowling attack with James Franklin rested for this match. Kyle Mills comes into the equation but Taylor hinted Canterbury quick Hamish Bennett might get an opportunity with the new ball on his home track alongside Tim Southee.
"To be honest, yes, I wouldn't mind giving him a go," Taylor said of Bennett.
"You need to see what happens on the day and where the wind's going and things like that, but it'd be good to get him inside that first 10 overs and see what he can do with the new ball.
"He's unusual. He's a hustler, he hits the deck very hard so with the extra new ball and extra bounce that he can get, hopefully he can get it a little bit more with the new ball."
The weather forecast for tomorrow is for fine spells after overnight rain.
New Zealand lead the six-match series 1-0.
- NZPA