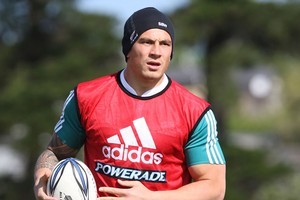 Sonny Bill Williams doesn't know exactly what he'll be doing in 2013 - but he won't rule out linking with NRL club South Sydney.
After sweating his way through an hour-long sparring session in Redfern on Monday, Williams admitted that a return to the NRL was something he thought about from time to time.
The NRL will not register a Williams contract until after the 2012 season, due to the former star back-rower walking out on a five-year deal while at the Bulldogs in 2008.
And, just like he does every year, when 2013 comes around Williams will reassess his options as new opportunities arise.
"Maybe (I would talk to South Sydney), it's definitely an option in a couple of years, maybe, after the (Rugby) World Cup," Williams told reporters.
"I don't think I'm allowed back until after 2012, so it's definitely an option.
"And ... it's definitely an option to stay in New Zealand (and continue playing rugby union).
"For me, especially the last couple of years I've set myself on small goals and concentrating on the next target.
"This target is about getting the boxing out of the way again, trying to turn onto the Super 15 and trying to crack the All Blacks side and obviously the World Cup.
"And after that, nobody knows but, like I said before, it's always good as a sportsman to have boxing up your sleeve just like any businessman.
"The main thing for myself, I always try to be my own man.
"Be respective to others but at the same time I do what is best for myself and for my family, and it';s just like with any person in the world."
Close friend and boxing mentor Anthony Mundine has ties to South Sydney and recently steered Australia and Queensland centre Greg Inglis to the club.
While Mundine admits he would enjoy seeing the rampaging Kiwi wearing the red and green he would never pressure Williams into joining the foundation club.
"Oh hell yeah," Mundine said when asked if he'd enjoying seeing Williams in a Rabbitohs jersey.
"Obviously it would be great for any code to get Sonny. Whether it be rugby union, rugby league or even boxing.
"Any sport would want him because he's a phenomenal athlete and he'd be great to have in any sport."
- AAP