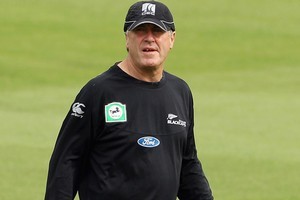 Winning an international cricket series or getting as many players at the crease and in form ahead of the World Cup?
In an ideal world the two would go hand in hand but, as witnessed in the first one-day international between New Zealand and Pakistan at Wellington on Saturday, that is not always the case.
New Zealand were so dominant in the nine-wicket victory that several key batsmen did not get any time at the crease, and the trial of Brendon McCullum at No 6 was essentially put on ice until the second match here at the Queenstown Events Centre tomorrow.
Such is Queenstown's propensity to produce low-scoring matches, there is every chance of a similar situation developing, especially if New Zealand bowl first tomorrow.
The average first innings score from six completed matches here is 173, with all matches won by the chasing team.
But New Zealand coach John Wright yesterday made it clear he was prioritising results over anything else in the leadup to the World Cup, which starts next month, and said he did not mind that most of his batsmen did not get time in the middle on Saturday.
Given New Zealand's wretched run of 11 consecutive one-day losses late last year, it is hard to disagree with his argument.
"If the bowlers can do the job like that again, I'd be absolutely delighted," Wright said last night.
"Ideally we want to win matches because that gives you momentum going into (the World Cup) and the confidence that goes with it. We need to keep winning."
Wright reiterated that the selectors wanted to see all 15 World Cup squad members get action in the six-match series, leaving them with a tricky balancing act between maintaining winning momentum and giving players gametime.
"We'll probably make a change (tomorrow), Jamie How might get an opportunity down here but we'll look at that tomorrow," Wright said, confirming How, the backup wicketkeeper in the World Cup squad, would play as a batsman only and not be handed the wicketkeeping gloves.
"He'll probably start as a batsman. With Jamie's batting, we'd like to see him play very aggressively. He's a brilliant fielder and it will just be a matter of guys taking their opportunities."
It is unclear where How, a top order batsman, would fit into the lineup.
Wright said Jesse Ryder and Martin Guptill, who put of 84 for the first wicket in 10 overs at Wellington, would be given another opportunity to grow their opening partnership, while Ross Taylor, the only other batsman to get time in the middle on Saturday, would also play.
- NZPA