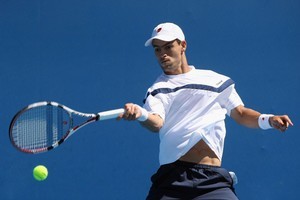 Growing up in Colombia, Santiago Giraldo wanted to be a politician or journalist but eventually opted for tennis. Given the parlous state of the game in the South American nation, it is debatable what was the riskier occupation.
But it was the right call and Giraldo was one of the big movers in 2010, going from No 107 to the verge of the top 50 before ending the year at 64.
He upset seeds Tommy Robredo in Melbourne and Juan Carlos Ferrero in Rome and won five matches at Masters level, having taken only one in the past four years. His most memorable moment was beating American world No 21 Sam Querrey in the Davis Cup in Bogota, a victory received as fanatically as you would imagine, given the immense American contribution to the status and image of Colombia over the past two decades.
"It was an amazing feeling," Giraldo says. "It was just a pity I lost [the tie] in the end. But it was my first fully professional year and it has been great."
Colombian tennis had two players in the top 50 at the end of the 1970s but has since lived in the shadow of others in the region. Argentina has always been a powerhouse and Chile emerged recently - but what really hurt was seeing the prowess of Ecuador and Peru.
Ecuador had Andres Gomez, who took 21 ATP titles, reached No 4 and famously beat a stunned Andre Agassi to win the 1990 French Open. Gomez's nephew and regular Auckland visitor Nicolas Lapentti reached the Australian Open semifinals on his way to No 6 in the world.
Lima cheered Jaime Yzaga as he won eight ATP titles (including Auckland in 1992) and hit the top 20 in the late 1980s, while Luis Horna rose to No 33 and won the French Open doubles title.
Giraldo is leading a Colombian renaissance. His compatriot Alejandro Falla reached No 58 and was three points away from sending Roger Federer out of last year's Wimbledon in the first round.
"We are in the best moment of our history," says Giraldo. "We have two players in the top 100 and are in the world group of the Davis Cup."
Novak Djokovic will stage an exhibition in Colombia this year and old rivals Pete Sampras and Agassi are set to face off in a charity match.
For Giraldo, tennis was just a hobby until inspired by older sister Carmina, who played Fed Cup for Colombia. He learnt to play in Bogota, where the high altitude - "2625m closer to the stars" is the city slogan - means the clay courts are not of the usual variety favoured across South America.
"Our clay is different. It is more like a mix of hard court and grass."
As a result, his favourite surface is hard court, which offers him hope for the Heineken.
Giraldo's interest in politics was piqued in 2002, when hardline reformer Alvaro Uribe came to power. His campaign slogan was "Mano firme, Corazon grande", which means "Firm hand, big heart".
"Colombia is a very complicated country. With [Uribe], I saw how you can do great things as a politician and change people's lives. It is a good image when you can help someone."
Giraldo seems ideally placed to pursue a political career when he hangs up the racquet, given the continent's predisposition for electing beauty queens and sports stars into office. In the meantime, he is focused on becoming the first Colombian to crack the top 20.
"I've played [Rafael] Nadal, I've played [Novak] Djokovic and I enjoyed it. It was scary at first but then I felt confident."
His knowledge of New Zealand could be scrawled on a tennis ball: "It's close to Australia, the people are friendly and they made Lord of the Rings" but he hopes to leave an impression.
He is "not so famous" in Colombia and still hopes to meet compatriot singer-songwriter Shakira ("we all love her; she is so beautiful") but a solid performance in Auckland could help change that.