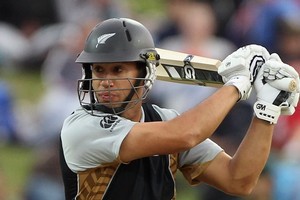 It might be Ross Taylor's shout in Hamilton tonight after the Black Caps' vice-captain was snapped up for $US1 million in the latest Indian Premier League auction today.
The top order batsman was picked up by the Rajasthan Royals for the next two seasons.
Taylor has previously played for the Royal Challengers Bangalore in the IPL. The contract is worth around $NZ1.315m but was far from the biggest of the night with four players breaking the $US2m mark.
Indian opening batsman Gautam Gambhir sold to Kolkata Knight Riders for a record $US2.4m, Indian all-rounder Yusuf Pathan sold to Kolkata for $US2.1m while Kochi paid $US1.5m for Sri Lanka's Mahela Jayawardene.
Fellow Black Caps Daniel Vettori and Brendon McCullum also earned IPL contracts but not as big as Taylor's.
The New Zealand skipper was purchased by the Royal Challengers for $US550,000 ($NZ724,000) while McCullum was a surprise to only go for $US475,000 ($NZ625,160) to Kochi.
- Herald online