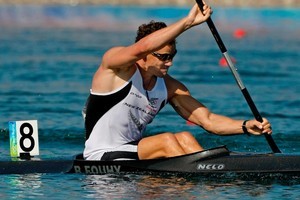 The Sparc funding row wasn't the overriding reason for Fouhy's departure but it was the final bump. To get to the heart of the wound, you must first lift the scab.
It's not the most pleasant imagery, but the saga surrounding Ben Fouhy, Ian Ferguson, Canoe Racing New Zealand, Sparc and the newly formed Athletes' Federation has been an unpleasant, thoroughly septic business.
With Fouhy finally abandoning the sport after an aborted retirement last year, it remains to be seen whether this proves to be kayaking's version of an antibiotic, or whether the gangrene has set in.
The country's sporting leaders need to piece together what went wrong to ensure similar situations never again fester like this.
The Sparc spat
"There is no Sparc versus Ben Fouhy here," said Marty Toomey, general manager of high-performance sport for the Government-funding agency.
He's right, to a point. The notion that the body charged with resourcing our national sports organisations (NSOs) to assist them in winning medals would try to force one of the country's best Olympic chances out of his boat is faintly ridiculous.
Sparc's Byron Thomas and the Athletes' Federation, represented by Rob Nichol, attended a meeting that also included Canoe Racing NZ bosses on December 2, but it's clear that Fouhy and Nichol came out of that meeting with diametrically opposed expectations of what would happen in the weeks that followed.
That meeting followed one in mid-November when CRNZ chairman Peter Fitzsimmons said his board was headed towards a stalemate over the so-called "eligibility clause" (more on that later).
Fouhy agreed to drop the clause and attend trials. He did not think it would affect his previously arranged ring-fenced funding, which gave him the ability to work independently, if he wished, of CRNZ's high-performance programme.
On December 17, Sparc announced its 2011 funding that included $900,000 for CRNZ, contingent on its implementation of the recommendations around its coaching structure. Fouhy's funding was to come out of that pool.
The athlete, and Nichol, were gobsmacked. They allege a reneging of an agreement and Toomey was in the firing line.
"I don't know that Rob [Nichol] understands, or is willing to understand, the history around the funding," Toomey explained.
Sparc had made a four-year commitment to kayaking that was due to run out before this latest investment. During that time, Fouhy had walked away from the sport.
"A lot of that was down to a personal problem with Ian Ferguson," Toomey said. "We were made aware there was a chance we could get Ben back in the boat under certain conditions. Because that happened part-way through the year, CRNZ had allocated its high-performance budget so we helped out by setting aside some money for his campaign.
"We were of the understanding that Ben had no intention at all of working with CRNZ and he would be based in Europe."
Toomey said the fact that Fouhy was working with CRNZ coach Gordon Walker suggested a thaw in the relationship between athlete and NSO. Sparc felt the tripartite agreement, or athlete-led programme, was no longer necessary.
Toomey said CRNZ's pitch for funding had not included Fouhy, meaning the NSO also expected his funding to be separate. Toomey concedes that communication on the decision was poor, coming a day before CRNZ broke for Christmas.
"The timing did not work well and there has been a communication breakdown. That's regrettable," Toomey said. "Nobody wanted Ben out of the sport." In all likelihood, the Sparc funding row wasn't the overriding reason for Fouhy's departure but the final bump in the road that made the wheels fall off.
One source involved on the periphery of the saga said he felt Nichol might be using the Fouhy debacle to give the Athletes' Federation a chance to flex their muscles and get a greater voice on funding decisions.
"I've got no time for that whatsoever," Nichol said. "It's ridiculous and seems to be an accusation of convenience in the hope we will go away.
"Remember we worked for seven months behind the scenes trying to reach a deal where Ben could paddle for New Zealand again and we never sought any publicity then."
The eligibility row
Ultimately the most damaging aspect to Fouhy's hopes of returning to the sport on his terms, the eligibility row was also a bluefin tuna-sized red herring.
If you look at Fouhy and Nichol's strategy in political terms (and it's a shame but this episode has not only been unpleasant, it's been political), having Fouhy compete for New Zealand without having to attend national trials was a chip they should never have brought to the table, no matter how sound the intention.
Former Olympic gold medallist and coach Alan Thompson made his thoughts clear on the selection process when talking to his local paper, the Gisborne Herald, recently.
"We all admire Fouhy's ability and we have no problem with that," Thompson said. "We also have no problem with him having an independent campaign, funded independently. From Snell and Halberg, through to Waddell and Drysdale, we have had mavericks.
"But the truth is, Fouhy sidestepped the selection process for this year's world cup. He didn't attend trials. Steven Ferguson did everything that was asked of him to get selected.
"You look at Waddell and Drysdale - two great rowers, but they had to go head-to-head to determine who would be selected for the singles sculls. That's why we have trials."
When Thompson threatened to challenge the eligibility clause legally, claiming it prejudiced other athletes, Fouhy's camp had little option but to back down. Which they did.
Fouhy would have been seen to receive preferential treatment at the expense of others if the clause remained, but look past the bluster and you quickly find that his "preferential treatment" would have come at the expense of absolutely no one.
It's the K1 1000m spot we're talking about, the same spot that New Zealand did not enter in the 2010 world cup regattas. The same spot where even the most committed Fouhy critics would acknowledge that between here and London 2012, there were only two paddlers capable of competing at world-class level in that boat over that distance - Fouhy and Steven Ferguson. As world cup regattas allow for two athletes from one country to compete over every discipline, there should not have been any great drama.
What Fouhy was proposing was let Ferguson have a crack at the K1, but let's fight for the one world championship spot over the three world cup regattas when form should be peaking, not during the New Year in New Zealand.
Fouhy was asking for his spot in the squad for Europe to be assured, not his spot in the K1 1000m for the world championships - an important and often overlooked distinction.
There was another, more personal, reason for Fouhy to want to avoid the national trials. He was eyeing a training camp in Florida alongside the likes of Eirik Veraas Larsen and Adam van Koeverden that would have served the dual purpose of giving him a great build-up for a European season and avoiding contact with Ian Ferguson and Paul MacDonald.
In the end, Fouhy's camp agreed that justice being seen to be done was an easier route to go down rather than arguing a case at the Sports Tribunal. In the end, he needn't have bothered.
The Ferguson factor
To some it's just a sideshow to the real issues, but this is what ultimately broke Fouhy.
There are great examples in sport and music of odd couples making it work. Oasis' Gallagher brothers were in a constant state of war but churned out hit after hit. Teddy Sheringham and Andy Cole couldn't stand each other but formed a prolific partnership at Manchester United and Lance Armstrong and Alberto Contador's enmity didn't stop Asatana dominating the 2009 Tour de France.
But Ferguson-and-Fouhy was never going to work. It's pointless blaming one or the other: different personalities; different ways of looking at the world.
In another world they might have been brilliant together. Ferguson would have been a hero to the younger Fouhy; Fouhy could have been Ferguson's ticket to more Olympic and world championship glory.
The simple fact is they didn't get on and that antipathy turned to mistrust - a recipe for disaster. Add the fact that Ferguson's son, Steven, was Fouhy's biggest competition and it was a mix fated to fail.
Fouhy is far from the only person to have fallen foul of the Fergusons but, it has to be noted, you could also say Ferguson is not the only one who has found Fouhy hard to work with.
Back in 2004, Owen Hughes went public with his distaste for the Fergusons after Ferguson "tanked" in the K1 500m at Athens, a seat he believed should have been his.
Hughes decided to walk away from the sport rather than continue fighting the national coach over his selection policies.
Over time, his thoughts has mellowed, but he still has major concerns about the way the sport has been dominated by personalities.
"Ian's been good for the sport," Hughes said. "He brought it profile and he brought in money.
"The problem is everything has been so focused on Steve, what was best for him and if that wasn't what was best for everyone else, too bad."
Hughes said Fouhy was "undoubtedly" difficult to work with.
"But he's a phenomenal athlete. I've come across a number of good athletes ... he is amazing."
If there was a sense Ferguson and MacDonald, whom he brought back into the fold to work with Fouhy in the lead-up to the Beijing Olympics, were running CRNZ's high-performance programme as a fiefdom, that was shattered last year after the world championships in Poland.
Part of the review, obtained by the Weekend Herald under the Official Information Act, showed "there were significant issues around coaching"; training programmes were not well planned; there was conflict between coaches; just half the athletes felt the coaches had a positive impact on performance; and there was conflict between the coaches and high-performance manager Wayne Maher.
Changes were recommended, most of them sweeping. Sparc's continued funding is contingent on that.
It's far too late to salvage anything out of this particular fiasco, though.
Kayaking has lost a brilliant athlete. It's been through an ugly review that has heavily criticised two legends.
The bleeding must stop.