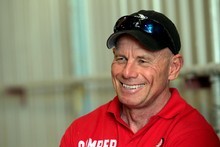 The California dreaming is over for Grant Dalton.
The confirmation yesterday that San Francisco will host the 2013 America's Cup was the "perfect result" for the Team New Zealand managing director.
Dalton said there were a number of reasons to be delighted with the news the Golden Gate Yacht Club will be staging the event.
"It was by far the best venue," he says. "Newport Rhode Island has great history and tradition but San Francisco is the best overall canvas to work from."
While there is still much uncertainty about the impact of multihulls in the Cup, Dalton said the relatively confined area off the California coast was ideal for catamarans.
"It suits the boats," explains Dalton. "It is a natural amphitheatre - much like Auckland - which won't allow the huge separation that has been feared by many people."
Conditions in San Francisco tend to lean toward heavy rather than light airs, another positive factor.
"Kiwis sail better in a breeze," Dalton admits. "It tends to be a 'muscle off' which we enjoy. We always pride ourselves on our boat-handling skills so windy conditions can only be an advantage for us."
Oracle's announcement, coming after the news that Louis Vuitton is set to recommence their involvement in the event, provides some much-needed stability and certainty around the 34th America's Cup.
"I've been talking to potential sponsors for the last six months but now we have something to sell," says Dalton. "After the events of the last few years, and in the current climate, you can't get away with possibilities any more. There needs to be definites."
The venue must also be ideal for Emirates, the key sponsors of Team New Zealand. The airline has reached saturation point in many European markets but the United States is notoriously tough to crack and the Cup looms as an ideal vehicle to do so.
Dalton will talk to prospective major sponsors over the next three months and has set a deadline of March 31, by which time he expects to know if a challenge will be financially feasible.
"We want to win the Cup," asserts Dalton, "and if we can't reach the level of funding required to be a strong challenger, then we won't be going ahead. We will not be entering just for the sake of it."
By Michael Burgess