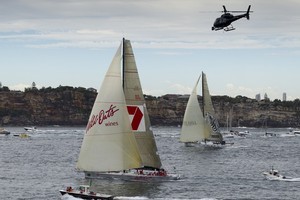 Wild Oats Eleven started the third day of the Sydney to Hobart yacht race with a healthy lead as the list of retirees rose to 16.
The fleet was reduced to 71 boats this morning, following the overnight withdrawals of Pirelli Celestial, Salona II, Nemesis and last year's overall winner Two True.
The NSW yacht Pirelli Celestial had problems with her mainsail, Sydney's Salona had steering troubles, while Two True had engine issues.
The cause of Nemesis' retirement remains unknown.
Wild Oats, gunning for her fifth line honours, was midway down the Tasmanian east coast by Tuesday morning, with a 17 mile lead over its nearest rival Investec Loyal.
It is expected to reach Hobart early on Wednesday morning.
The weather turned nasty off the southern NSW coast yesterday, with gale force winds bringing about the withdrawal of five boats within an hour.
Among the casualties were former line honours winners Brindabella, which suffered a torn mainsail, and YuuZoo, which had headsail damage.
Ragamuffin leads the race for handicap honours, followed by fellow Sydney yachts Victoire and Paca.
- AAP