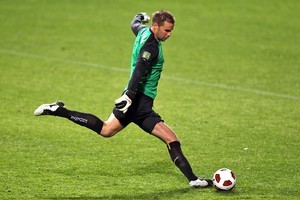 An unkind slice of soccer history is set to repeat for Wellington Phoenix goalkeeper Mark Paston, who has been diagnosed with a shin injury that is likely to end his A-League season.
A Phoenix spokesman this morning confirmed Paston had suffered a tibial fracture just below the right knee joint, an injury that usually requires several months of recovery time.
With the A-League regular season ending in mid-February and the playoffs extending for a month beyond that, it is highly unlikely the All Whites custodian will feature, with the gloves to be passed to Danny Vukovic.
That would mirror events of last season when Paston suffered a very similar injury in training, also in December, and missed the rest of Wellington's campaign. His place was filled with some aplomb by Liam Reddy as the Phoenix reached the preliminary final.
Scans yesterday provided Paston with an unwanted 34th birthday present after he was stretchered off during Sunday morning's (NZT) 2-0 loss away to the Gold Coast. He was distraught and in considerable pain when medical staff assessed the injury at halftime.
Paston was to see a specialist tomorrow to plot his recovery path.
The Phoenix host Newcastle in a key mid-table match on Saturday.
- NZPA